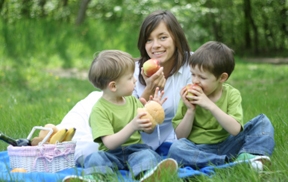 Get Out the Picnic Blankets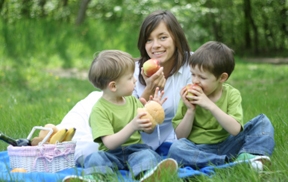 Summer is here just in time to celebrate International Picnic Day! It's time to start heading out to patios and back porches, decks and parks for some picnic fun. Typically picnics are full of processed, mayo-filled or fried foods.  We tend to lean towards fried chicken, hamburgers, hotdogs, chips and cookies. This year, let's make International Picnic day a healthy one to remember!
Want all of your friends to come over to your picnic blanket?
There are so many ways to make International Picnic day a little healthier for your family and friends. Make sure you plan ahead for your picnic so that your meals are colorful and tasty!
It is easy to remake your favorite picnic food to be healthier. Some healthier swaps include using Greek yogurt instead of mayo, grilled chicken instead of fried, using whole wheat wraps and breads instead of potato buns, and baking instead of frying!
Here are 10 tips to ensure you have a safe and healthy picnic:
Make a large fresh salad the night before to decrease the stress on picnic day of chopping and dicing.
Bring plenty of drinking water to stay hydrated all day.
Always bring extra water, soap and hand sanitizer to keep your hands clean when handling your food.
Enjoy edamame as an appetizer! A half a cup of edamame is just 95 calories and 4 grams of fat. Bags of frozen edamame can be found in the freezer section of your supermarket and take only a few short minutes to cook
Make sure you pack enough ice! In the summer heat, food can easily become spoiled and unsafe to eat. Make sure you immediately place your leftover food in the cooler so it won't go bad.
Instead of chips and dip, bring along hummus or trade-in your mayo/ sour cream based dips and replace them with Greek yogurt.
Be sure to keep hot food hot and cold food cold to prevent foodborne illness.
Keep it simple! Take some cut up veggies and fruits to snack on.
Use quinoa instead of pasta in your side salads!
Bring a grill. Being able to make your own healthy food on the spot makes it a lot easier to keep everyone happy.  Lean meats and vegetables taste delicious cooked on the grill!
Picnics are a perfect place to enjoy outdoor activities as well.  Bring Frisbees, a kick ball, soccer ball, or any other of your favorite outdoor games.  You can create teams and make it competitive or just play causally.  If you play before you eat, you'll work up quite the appetite and you'll be able to enjoy and savor your food!
Your turn to take action: How can you make your picnic as healthy as possible this season?
Like this post? Share it!
http://brghealth.com/brg/wp-content/uploads/2016/06/Family-picnic.jpg
182
288
Bonnie R. Giller
http://brghealth.com/brg/wp-content/uploads/2017/12/BRG_Headerwpic_2.png
Bonnie R. Giller
2016-06-17 09:00:00
2016-06-16 19:34:49
10 Ways to have a Healthy Picnic on International Picnic Day