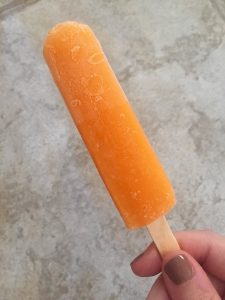 Do you find it difficult to pick out frozen treats in the grocery store because most have ingredients that you can't even pronounce? Or maybe you have a food sensitivity or allergy, and can't seem to find products that will be easy to digest? If you fall into either of these categories, or somewhere in between, there is an easy fix – make your own frozen treats at home!
The idea of creating desserts from scratch can be intimidating, even if you're not a beginner. However, there are so many easy recipes to choose from, and countless combinations, that this should not be the case. What better time to experiment with homemade frozen fruit bars than during the long, hot August month?
4 Delicious Frozen Fruit Bars
Below are some of my favorite combinations for frozen fruit bars to make at home. Any of these can be easily altered depending on taste preference. Don't be afraid to come up with your own recipes or mix and match!
1.) Banana, blueberry, and peanut butter, with optional dark chocolate chips – This potassium and protein packed treat is easily a family favorite. It is easier made with frozen bananas and blueberries, so it will need to be prepared in advance. Once frozen, place the fruit in a blender and add the desired amount of peanut butter (approximately ½ Tbsp. per pop). You will also need to add low-fat milk. After this has been blended, place the mixture into your ice-pop molds, adding the dark chocolate chips either at the top or throughout. Place in the freezer and enjoy after a few short hours!
2.) Strawberries, raspberries, and blackberries, with flax seeds – If you're craving more of an icy treat, try sticking with just these colorful frozen berries. Combine the desired amount in your blender, using either whole or milled flax seeds, and add milk or Greek yogurt. These pops are guaranteed to be a bold beautiful color, filled with flavor as well as fiber!
3.) Kiwi and pineapple, with chia seeds – This tropical combination is a hit at barbeques, as well as the beach. Simply slice kiwis and remove the center seeds, and blend with chopped pineapple. Similar to flax seeds, you may leave the chia seeds whole or blend them beforehand. Add water if the mixture seems too thick and dry to freeze by itself. Toss into your ice-pop molds to freeze and voila – a refreshing and healthy snack chock full of vitamin C
4.) Watermelon, strawberries, and lime – If you enjoy more of a tart citrus flavor, definitely give this recipe a whirl. Remove the seeds from your watermelon slices, and place into a blender with sliced strawberries. This may need to be strained if you would prefer more of a smooth ice-pop. After the fruit has been blended, pour out the servings into your ice-pop molds and squeeze lime juice into each individually. Stir each with a spoon so that the lime juice is evenly distributed throughout the pop, and place into your freezer. This sweet, but tart treat is loaded with antioxidants, and is perfect for any summer occasion.
You can make any of these options dairy-free by swapping out the milk/yogurt for almond, cashew, or coconut milk.
Remember, there is no wrong combination when it comes to making ice-pops at home. If you want to get even more creative, try leaving some of the fruit whole after placing it into your molds. The possibilities are endless!
Your Turn to Take Action: What creative ways will you make ice-pops this month? Let me know in the comments below, I'd love to try it out!
Like this post? Share it!
http://brghealth.com/brg/wp-content/uploads/2017/08/20368973_10155717363664644_7880938609969651858_o.jpg
2048
1536
Bonnie R. Giller
http://brghealth.com/brg/wp-content/uploads/2017/12/BRG_Headerwpic_2.png
Bonnie R. Giller
2017-08-07 09:00:00
2017-08-02 17:01:49
4 Fun Frozen Fruit Bars