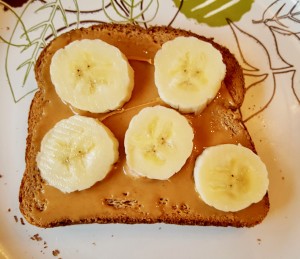 Did you know that September is National Better Breakfast Month? I'm sure you've heard this before, but breakfast really is the most important meal of the day! It not only sets the tone for the rest of your day, but it also promotes healthy blood sugar levels and overall metabolism. Unfortunately, breakfast is often the meal that is skipped the most due to not having time in the morning. However, having a balanced breakfast doesn't necessarily mean you have to sit down and have an elaborate meal every morning!
Luckily, I'm here to help you with easy and delicious breakfast ideas perfect for those busy weekday mornings or late weekend mornings!
5 Quick Breakfast Ideas
1. Overnight Oats
Overnight Oats are one of the easiest breakfast recipes you could possibly make! What makes them even better is the fact you can make them the night before or even a couple days before! It's the perfect breakfast to prep and have easy access all throughout the week.
Add equal parts oats and any kind of milk (cows, almond, soy) to a container or Mason jar. Mix in some fruit and store in the fridge for up to 5 days. You can enjoy them cold or put them in the microwave and enjoy them as hot cereal. Once you're ready to eat it, throw in some nuts, peanut butter, cinnamon or whatever else you want!
2. Fruit Smoothies
Fruit smoothies are great because you can prepare them the night before, freeze them, and thaw in the morning for a tasty breakfast!
Blend your fruit and/or vegetable of choice with yogurt or milk, peanut butter (if desired) and ice. Once blended, store it in a freezer safe cup or container and store in your freezer. Remove from the freezer in the morning when you wake up so that you can grab your thawed smoothie on the way out!
3. Nut Butter Toast
Nut butters (peanut, almond, cashew, soy) are great because they pack tons of protein and lots of other important nutrients. They also require no preparation!
Toast a piece of bread or an English muffin as usual. Spread the nut butter over the surface of the toast or muffin. Spice it up by adding sliced banana or any other fruit of choice as a sweet addition! You can also top with some sprinkled cinnamon for added flavor.
3. Avocado Toast
Avocados really do live up to their "hype"! Despite tasting great and going with everything they are a great source of potassium, fiber and healthy fats!
You can treat this the same way you would toast and nut butter. Just toast a piece of bread or an English muffin as usual. Slice, dice or mash an avocado and spread it on your toast.  Add some tomatoes, pepper or any other spice or herb to taste! If you have extra time in the morning, you can make a egg (scrambled, over easy/med/hard, hardboiled egg) and place it on top for a delicious breakfast!
4. Egg Breakfast Muffins
Egg Breakfast Muffins are another great recipe you can make at the beginning of the week and store in the fridge for a quick grab and go breakfast during the week.
To make your own egg muffins, whisk eggs with cheese, spinach and anything else you would normally put in your eggs. Pour the mixture into a muffin tin and bake for 15-20 minutes. You can store these in the fridge for up to a week!
5. Yogurt Parfaits
Yogurt is a great food to have for breakfast because it's high in protein, calcium, and vitamin B. However, I do know that plain yogurt can get a little boring. But fear not, here's how you can put a spin on your yogurt to make it a bit more exciting!
Mix in fruit and granola or nuts into your yogurt for a delicious parfait. You can also top with cinnamon or honey for a little sweetness.  
Remember, breakfast really is important, so do your best not to skip it! It doesn't have to be an elaborate meal, keep it simple and just enjoy it!
Your Turn to Take Action: What will you make for breakfast this week? Let me know in the comments below!
Like this post? Share it!
http://brghealth.com/brg/wp-content/uploads/2016/11/PB-and-banana.jpg
2988
3463
Bonnie R. Giller
http://brghealth.com/brg/wp-content/uploads/2017/12/BRG_Headerwpic_2.png
Bonnie R. Giller
2018-09-28 09:00:42
2018-09-28 08:34:07
5 Breakfast Recipes to Spice up your Morning