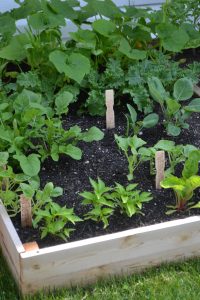 It's time to get your soil prepped and your seeds planted– it's National Garden Week! During the second week of April we celebrate National Garden Week. That's right, a whole entire week for planting your own garden. Gardening is a great outdoor activity that can be done with your friends and family.
Growing your own produce means you will have the freshest carrots, cucumbers or whatever else you decide to grow. Think of the cost you will save by picking your own vegetables instead of going to the store where produce have traveled miles before becoming available to you. This also means you get to enjoy your fruits and vegetables at their peak ripeness which provides more nutrients!
If the thought of planting a garden seems a little too daunting, start out even smaller. Herbs can be grown indoors in small planters or jars making them easy to tend to and keep nearby when cooking. Fresh herbs can add a variety of flavor to all of your favorite recipes.
I personally haven't ventured into planting my own garden yet, but my assistant Chelsea has.  I asked her to provide you with some gardening advice.  Here's what she said:
5 tips that I learned gardening for the first time:
Be sure you have enough space for each seed and vegetable you want to grow. This was my first mistake, I got too excited and ordered too many types of vegetables. Be sure to measure and determine the perfect amount of land you have for the amount of seeds and vegetables you want to grow!
Use the right kind of fertilizer. Although a little more expensive, using compost or buying the purest, freshest fertilizer you can really helps the vegetables and fruits that you're growing…and who doesn't like to get a little messy in dirt anyway?! This way you can ensure that you will really have the best quality products.
Plant what you will eat! I was so super excited that I planted every seed I had purchased. I'll be the first to admit, I rarely use or cook with half of the things I decided to grow this season. Some of it died, or I didn't harvest it soon enough so it went to waste. Be sure that you can use or give it away to those who cook with it!
Start small. Yes, I know it is tempting to fill your plot of land with ravishing fruits and veggies, but gardening is a lot of work and upkeep. I am glad I started with a single bed. It made it easier to maintain and pick when they turned ripe.
Use a gardening bed. You can make one or even purchase them online. I recommend using a bed because it is easier to maintain the root traffic, the water drains easier and, personally, I think it is much easier. Make sure that your bed is big enough to plant each seed the correct distance it needs to be from the others!
Keep these 5 tips in mind as you start your garden so you can learn from her mistakes.  I can't wait to hear all about your new garden!
Your turn to take action: What will you grow in your garden this year? Let me know in the comments below!
Like this post? Share it!
http://brghealth.com/brg/wp-content/uploads/2017/04/Garden.jpg
4608
3072
Bonnie R. Giller
http://brghealth.com/brg/wp-content/uploads/2017/12/BRG_Headerwpic_2.png
Bonnie R. Giller
2017-04-10 09:00:56
2017-04-05 12:54:46
5 Tips From a First Time Gardener