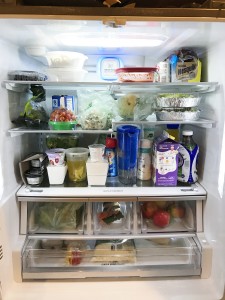 Memorial Day is one of my favorite days of the year. It's known for great weather, reconnecting with family and friends and the unofficial start of summer! You may be running from BBQ to BBQ or you might be hosting your own this year. Either way, you are sure to be surrounded by more food than you could possibly eat. So, what do you do with all of those leftovers?
If you are like most, you probably don't want to eat the same leftover meat night after night for the next week until all of the leftovers are gone.  So, it's time to get creative!
5 Ways to Reinvent Your Leftovers:
Chop up leftover burgers into tiny pieces and use them to make tacos! This makes for any easy dinner, since you don't have to recook the meat.
Shred the leftover chicken and mix it with a light tomato sauce and shredded zucchini to make a delicious pasta dish.
Dice chicken and mix with any leftover grilled vegetables. This can be eaten on its own or placed on top a bed of lettuce or kale.
Add crumbled burgers with spices, legumes and leftover vegetables into your slow cooker for an easy and delicious chili dinner.
Combine chopped leftover steak with eggs and veggies for a delicious morning omelet that'll keep you full all morning.
You can also freeze any extra meat to have at a later time. When you want to eat it, all you have to do is allow it to thaw and voila!  You'll have a meal without doing any work.
Don't forget about your desserts.  A pre-chopped fruit salad won't last as long as your other leftovers, so be sure to eat the fruit soon!  You can add fruit to your morning yogurt, make a smoothie or have it for dessert with a small scoop of vanilla ice cream.  If you're worried you might waste it, don't be afraid to send some home with friends and family.  I'm sure they'll love some!
Remember, the key is to get creative.
Your Turn to Take Action: How will you reinvent your leftovers?  Let me know in the comments below!
Like this post? Share it!
http://brghealth.com/brg/wp-content/uploads/2016/11/Clean-Out-Fridge.jpg
4028
3018
Bonnie R. Giller
http://brghealth.com/brg/wp-content/uploads/2017/12/BRG_Headerwpic_2.png
Bonnie R. Giller
2017-05-29 09:00:59
2017-05-17 15:40:54
5 Ways to Liven Up Your Memorial Day Leftovers