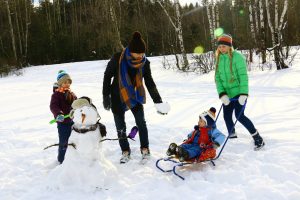 Trust me, I know how tough it is to stay motivated to be active during the winter months but National Family Fit Lifestyle Month is the perfect incentive! I love celebrating this month because it involvesthe whole family. There are many ways for you and your family to stay fit together during Family Fit Lifestyle Month.
Nutrition
Nutrition is a huge part of fitness. Eating a healthy diet can really help your family in many ways. For instance, a balanced diet promotes a healthy weight, provides your body with energy, promotes good sleep and just makes you feel better in general. Be sure to eat a wide variety of foods to ensure that your body is receiving all the nutrients it needs.
Additionally, a healthy diet can help to protect the human body against certain diseases, such as obesity, diabetes, cardiovascular diseases and some skeletal conditions. Furthermore, the benefits of eating a wide variety of foods are also emotional, as variety and color are very important aspects of a balanced diet.
6 Family Fun Exercises
If you're anything like me, you prefer to workout outside during the warmer months. However, exercising outdoors during the winter isn't alwaysas pleasant. Here are some ideas for you and your family to stay active this winter:
Join a gym: This is a great option especially if there is a gym or a community center near you. Wake up early and go for a quick workout or go at the end of the day after work or running errands.
Ice skating: This is a really good way to get the kids involved. Ice skating is lots of fun, and a great way to get active with your entire family!
Take a Walk: This is the most simple of them all. If it's not too cold out, try to walk to places if you can! However, if you can't walk outside try going to you local mall and walking laps there. This is another great way to get active, and you also get to do some window shopping too which is always fun.
Fitness class: If you can't seem to get motivated to work out on your own, try signing up for a fitness class. This way you're held accountable by the instructor and your classmates.
Exercise at home: Buy some exercise equipment and exercise in the comfort of your own home. You can get the whole family involved in this one too!
Take the stairs:This is a super easy way to keep active – take the stairs instead of an escalator or elevator whenever possible.
Play some winter sports: Similar to ice skating, snowboarding and skiing are super fun, but also great ways to keep the whole family active.
Active TV Viewing: If you're just watching TV on the couch, try jogging or skipping in place while you watch or even do squats, push ups, or burpees during the commercial breaks!
These are a few great tips to get your family started on establishing a more active and healthy lifestyle, but to get more great ideas and become an active participant in Family Fit Lifestyle Month, you can visit: www.letsmove.gov, http://www.usaffitfamily.com, http://kidshealth.org.
Your Turn to take Action: This January, let's all make an effort to be more active in honor of Family Fit Lifestyle Month. What will you do to stay active this winter?
Like this post? Share it!
http://brghealth.com/brg/wp-content/uploads/2019/01/Attachment-1.jpeg
1824
2736
Bonnie R. Giller
http://brghealth.com/brg/wp-content/uploads/2017/12/BRG_Headerwpic_2.png
Bonnie R. Giller
2019-01-14 09:00:44
2019-01-14 10:25:21
6 Family Fun Ways to Celebrate Family Fit Lifestyle Month!