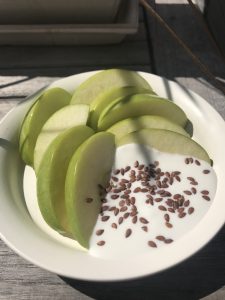 With September in full swing, I'm sure your children's school schedule is jam packed with activities, sports, homework and free time. Or, maybe YOU are the one back in school and YOUR schedule is filled with classes, work and/or taking care of someone else.   It is easy to get wrapped up in your busy schedule and "forget to eat", thus leading to long periods of not eating.
Well, luckily I'm here to help you start the school year off right by stopping this habit in it's tracks and giving you and/or your children snack ideas to keep you energized and focused all day!
3 Snacking Benefits
Before we delve into the perfect snacks ideas, let's touch upon some of the benefits a balanced snack can have.
Keep your hunger in check–Having small, balanced snacks in between meals can help prevent you from becoming over hungry and hit the fridge and kitchen cabinets when you get home. You'll also feel more satiated throughout the day.
Boosts of energy– Remember food is fuel and it helps your body have enough energy to perform day-to-day activities. A quick snack can give you a good boost of energy to get through your mid-day slump.
Stay focused– Sometimes when your body is hungry, you feel physical stomach pain but you may also struggle to focus in class/work or any other task you need. Keep your mind focused and stay concentrated with the task at hand by fueling your body properly throughout the day!
 6 Perfect Snack Ideas
Not all "snacks" are created equal. When you're in a rush, you may find yourself choosing a snack that is filled with added sugar, fat and/or empty calories that won't keep you full for long.  However, with a little planning you can always make sure you have healthier snacks that are still delicious!
Here are 6 snack ideas to keep in mind:
Veggie sticks with hummus– Choose your favorite veggies, like cucumbers, celery, carrots, zucchini, or peppers. and cut into sticks to pair with some savory hummus!
Yogurt Parfait– Make your own protein-packed parfait with Greek yogurt and mix in your choice of fruits. You can also add in some chia seeds and nuts for a crunch.
Trail Mix– Make your own trail mix at home and separate in small plastic bags or containers to take on-the-go! Check out my blog post on National Trail Mix Dayto learn more about making your own trail mix. 
Hard Boiled Eggs– This is another super easy and quick snack that you can pack ahead of time and is a good source of protein and fat. 
Peanut Butter with Fruit– Cut up your choice of fruits, like apples and bananas or even celery and enjoy with a serving of peanut butter!
Granola Bars– Try making your own granola bars at home. Don't know where to start? Check out my recipe for Crunchy Blueberry Granola Bars!
Don't be afraid to get creative with your snacks! Try to find fun, new ways to incorporate more fruits and vegetables into your day!
Your turn to take action:  What snacks will you prepare for you and/or your kids?  Let me know in the comments below!
Like this post? Share it!
http://brghealth.com/brg/wp-content/uploads/2018/09/IMG_7069-e1537310442342.jpg
4032
3024
Bonnie R. Giller
http://brghealth.com/brg/wp-content/uploads/2017/12/BRG_Headerwpic_2.png
Bonnie R. Giller
2018-09-21 09:00:41
2018-09-18 18:41:22
6 Perfect Back to School Snacks