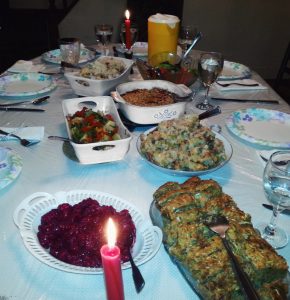 Can you believe that Thanksgiving is Thursday!? Personally, I always find that November flies and the holidays come upon us so quickly!  In some ways, I wish it would slow down, but I also love the holidays and feel like there is a sense of comfort because it's a great time to spend with my family – and let's not forget – some delicious food!
When you think about Thanksgiving, what comes to mind?
Is the first thing that comes to mind a favorite dish? Does that thought follow with feelings of eventual guilt thinking about "over indulging"?
Do you then think about ways to avoid certain foods in hopes of not feeling guilty?
Well, I'm here to tell you that celebrating this holiday in a happy, guilt-free, stress-free and healthy manner does not mean that you have to sacrifice and give up all the great traditional foods that you want to eat. I'm here to give you tips to help navigate your Thanksgiving dinner to fully enjoy the company of friends and/or family.  
6 Tips for a Happy and Healthy Thanksgiving
1. Bring a Dish to Dinner
If you're eating Thanksgiving dinner at a relative's house, do not be afraid to ask what's on the menu. If it sounds like there will be a limited amount of foods that make your body feel well (example, foods that give you acid reflux and bloating), then offer to bring a dish or two. Trust me, your hostess will thank you for the help, and your body will thank you for thinking about it ahead of time.
2.  Make your own dishes from scratch
It's so easy to make a quick stop at your local supermarket and pick up the canned cranberry sauce, boxed stuffing and premade pumpkin pie.  However, many of these products contain excess sodium and sugar.  Take control over how much salt or sugar goes into your dishes by making them at home.  Start small with only one dish this year by trying out a new recipe. You might surprise yourself and enjoy it so much that by Christmas, you'll be making all the dishes from scratch!
3.  Add in more fiber
This is great way to get creative in the kitchen.  Substitute all-purpose flour for whole-wheat flour or try using whole-wheat bread instead of white bread for stuffing.  You can also mix in fruits and vegetables to various recipes for added fiber.  The added fiber will keep you feeling fuller and more satisfied after eating.
4.  Be mindful of what you're eating & enjoy
Sometimes it's easy to dig into a big meal and eat it quickly. This can typically lead to not eating mindfully. Remember, there is plenty of food to go around.  Try focusing on taking the time to savor the taste of each dish, slowing down and really enjoying what you're eating.  Doing so will allow your body to better recognize when its full and satisfied, which can help prevent overeating.  
5. Serve small portions.
With a holiday that only comes once a year, you can easily serve yourself large portions of your favorite dishes. You may even fall prey to "my eyes are bigger than my stomach".  Start with small portions to avoid overeating yet still satisfies your craving.  If you are still hungry you could always go for seconds.
6. Clear the table once the meal has finished 
Of course we want to spend as much time with family and friends as possible, that's what the holidays are all about! However, by leaving out unfinished portions after the meal is over, we increase the chance of mindless nibbling as the socializing continues. By taking a short break after dinner to help clean up, it allows you to move around a bit after enjoying your dinner. Also, I'm sure the help will be appreciated! After the table has been cleared, go back to spending time with your loved ones.
It can be stressful at times to think about the holidays, in particular this one where it is centered on food.  But you can still enjoy and make the most out of your Thanksgiving!
Your turn to take action:  What will you do this Thanksgiving for a happier and healthier holiday?  Let me know in the comments below!
Like this post? Share it!
http://brghealth.com/brg/wp-content/uploads/2018/11/IMG_7029.jpg
1181
1140
Bonnie R. Giller
http://brghealth.com/brg/wp-content/uploads/2017/12/BRG_Headerwpic_2.png
Bonnie R. Giller
2018-11-19 09:00:42
2018-11-19 06:48:04
6 Tips For A Happy & Healthy Thanksgiving!