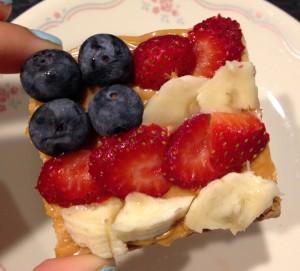 Though this week USA was knocked out of the World Cup, tomorrow is the Fourth of July and Americans all around the United States are putting their patriotic side forward to celebrate Independence Day.
This day is a little different than your typical summer barbecue because today's backyard parties typically include a lot of people, a lot of food and a lot of alcohol.  We all want to eat, drink and celebrate, for today is a nationally recognized day for our country. Yet many people may dread this day in fear that all of their healthy habits will go right out the window.
Here are ways to help yourself and your guests have a healthy AND happy Fourth of July:
1)      Skip the greasy finger foods.  It is common practice to put out bowls of chips, bread and butter or high fat dips for your guests to munch on while the food is on the barbecue.  As a host to your Independence Day party, offer healthier appetizer choices for your guests.  Here are some creative options:
– Homemade guacamole (avocados, salsa, lime juice) served with whole grain tortilla chips.
– Veggie platter with hummus
– Mixed nuts
– Tomato, basil and fresh mozzarella platter with balsamic vinegar
– Stuffed mushrooms
– Edamame
2)      Fourth of July is all about red, white and blue.  Utilize the vibrant colors of fresh fruits and vegetables to create patriotic menu items for your guests.  Make fruit kabobs using watermelon, strawberries, blueberries and bananas or create watermelon stars using a cookie cutter and top with cool whip and fresh blueberries.  Other red, white and blue foods to incorporate in your patriotic food creations are raspberries, blackberries, red peppers, tomatoes, nonfat Geek or vanilla yogurt, whipped cream, marshmallows, fresh mozzarella balls and low fat cream cheese.  Get creative!
3)      On holidays, when food seems to be the focus, it is easy to eat more than you need to satisfy you.  A tip to help control your portion sizes is to use smaller plates.  When you have a large plate, you automatically fill the whole plate even if it's more food than you need.   By using a small plate, you will eat about 50% less without even noticing!
4)      Don't make more food than you need – people tend to think they have to cook for small armies when they have company.  Get an approximate head count and cook only a little more than what you need so that you are still prepared.  This way, you won't have big trays of food you are pressured to have everyone finish or have a ton of burgers and hot dogs left over for you to eat throughout the following week.
5)      Encourage fun activities for your guests, such as Frisbee, swimming (if you have a pool), or a family game of whiffle ball so that your guests will work up an appetite.  Start these new traditions to help your family and friends stay active, even at holiday barbecues and I promise, your party will be the most fun party on the block!
6)      Last, but not least, the most important tip to enjoy the holiday and all of the delicious food that surrounds you is to eat (and drink) slowly and mindfully. Eat slowly to enjoy every bite and always listen to your satiety signals. It is a celebration and it is okay to enjoy the foods you love.  Remember, alcohol can sabotage your better judgment on all levels including your food choices. Enjoy a cocktail or two, or have a beer but always make sure you don't go overboard (and don't drink and drive!)
Stay mindful and have a safe and fun Fourth of July.  Happy Independence Day America!
Your turn to take action: What healthy items will you have on your Independence Day menu?
Like this post? Share it!
http://brghealth.com/brg/wp-content/uploads/2014/07/July-4th-red-white-blue-waffle-2.jpg
1852
2048
Bonnie R. Giller
http://brghealth.com/brg/wp-content/uploads/2017/12/BRG_Headerwpic_2.png
Bonnie R. Giller
2014-07-03 09:25:54
2014-07-03 09:19:40
6 Tips for a Regret-Free Independence Day