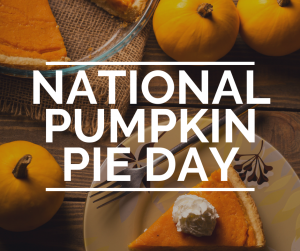 I don't know about you, butwhen I think about pumpkin pie, I usually associate it with Thanksgiving. However, pumpkin pie is still in season! In fact, National Pumpkin Pie Day is tomorrow, December 25th, and what a great holiday it is.
Did you know thatthe first pumpkin pie recipes were found in British cookbooks in the seventeenth century? What you may not know is that they weren'tthe traditional pumpkin pie recipes you might be thinking of! These early pumpkin pies were prepared by stuffing a pumpkin with apples, sugar and spices, and then baking the pumpkin whole. It wasn't until later on that the more well known methods of making pumpkin pie came to be.
Pumpkin Nutrition
Although pumpkin pie is a dessert, it's still filled with plenty of nutrients from the pumpkin itself! Pumpkins are jam-packed with potassium, whichworks with sodium to maintain your blood pressure.It is also rich in the following nutrients:
Antioxidants, which help combat cell damage from any "free radicals" or toxins.
Fiber, which aides in your digestion and keeps you feeling fuller for longer.
Vitamin C, which plays a big role in your immune system.
Folate, an essential fatty acid that plays a role in your central nervous system.
6 Ways to Spice Up Your Pumpkin Pie
Pumpkin pie tastes awesome by itself, but here are some ways you can make it taste even better!
1. Make it yourself – We all know that homemade always beats store bought! Make your own pumpkin pie for a delicious treat! There are tons of easy pumpkin pie recipes online that you can try!
2. Change the crust – Although a traditional pumpkin pie is made with a classic pie crust, don't be afraid to swap it out for something a bit different. You can add oats or crushed nuts to the crust, or even make a cookie crust using gingersnaps or graham crackers!
3. Add darkchocolate – You may have never thought of this, but chocolate and pumpkin actually make a great pair! Don't be afraid to adda layer of dark chocolate sauce to the bottom of the pie crust before topping it with the pumpkin filling, or drizzle the chocolate over top.
4. Brûlée it – When your pie is done and right before you serve it, sprinkle your pie with sugar and using a kitchen torch, brûlée the pie until the sugar is melted and dark brown for a sweet twist on your traditional pumpkin pie!
5. Swap squash for pumpkin – Okay, so this doesn't really have much to do with pumpkins, but swapping out the pumpkin in pumpkin pie for squash will definitely spice up your pie a bit! Actually, butternut squash pie has been said to be sweeter than pumpkin pie, and some people have even said that it tasted better than plain pumpkin pie!
6. Top it with mascarpone whipped cream – Everyone likes a bit of whipped cream with their pie, but have you ever tried it with mascarpone? The addition of the cheese will definitely change the flavor a bit, if you're just looking for something slightly different than normal. There are tons of recipes for mascarpone whipped cream online!
Don't be afraid to get creative with your pumpkin pie, you'll be surpised to see you love it any way!
Your Turn to Take Action:Whats your favorite way to make pumpkin pie? Let me know in the comments below!
Like this post? Share it!
http://brghealth.com/brg/wp-content/uploads/2018/12/National-Pumpkin-Pie-Day-.png
788
940
Bonnie R. Giller
http://brghealth.com/brg/wp-content/uploads/2017/12/BRG_Headerwpic_2.png
Bonnie R. Giller
2018-12-24 09:00:13
2018-12-20 19:41:51
6 Ways to Spruce Up Your Pumpkin Pie