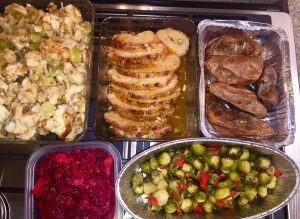 Thanksgiving has come and gone, but you are probably still full from the endless supply of food that was dished out during dinner. Hopefully you have the day off and can relish this feeling, and catch up on some much-needed rest! You may also be thinking to yourself, "What do I do with all these leftovers!?" There is nothing worse than letting delicious leftovers sit in the back of the fridge, only to be thrown out a few days later.
Getting creative with Thanksgiving leftovers can not only spice up your next few meals, but can present a great opportunity to create some really delicious and nutritious dishes.
Here are 7 fun and exciting ways to take full advantage of those leftovers!
Breakfast Ideas:
Turkey Frittata: A frittata can be so simple and so delicious. Just scramble a few eggs, mix in some of those leftover veggies and turkey, and throw it in the oven to bake until brown for a delicious and nutritious breakfast!
Brussel sprout hash: Have some leftover Brussel sprouts and sweet potatoes? Dice them together finely, put a little oil in the pan and sauté until golden brown. Top with a few fried eggs for a quick and easy breakfast.
Potato Pancakes: One of the easiest ways to make use of your leftover potatoes is to make potato pancakes! Mix with a little flour or oats, and an egg and sauté in light oil until brown. They make the perfect side to that leftover turkey Frittata
Lunch/Dinner Ideas:
Turkey and Cranberry Sandwich: Nothing says thanksgiving leftovers like a turkey and cranberry sauce sandwich. Just grab two pieces of bread, toast lightly, and add some of the leftover turkey (hot or cold), add some cranberry sauce and any other leftovers you'd like and enjoy
Turkey Chili: Have a lot of left-over turkey and are looking for something warm to eat over the weekend? Turkey chili can be your answer! Grab a pot or a slow cooker, mix in beans, leftover turkey and some of the leftover canned pumpkin. Cook on low heat until done and enjoy.
Turkey Potpie: Have some leftover pie crust? Mix the leftover turkey, potatoes, and any vegetables that you would like in a bowl. If you like, you can mix in a little leftover gravy and then pour into the pie dish, cook on 350 degrees F until golden brown and enjoy!
Turkey Soup: This is slight spin on a classic and is so easy. Grab a pot, and throw in those leftover veggies along with the leftover turkey and either noodle or rice for a delicious and nutritious soup!
The options are endless. The more creative you are, the more recipes you'll come up! So don't be afraid to try new combinations and new recipes, you might surprise yourself with what you come up with.
Your turn to take action: What will you make with your Thanksgiving leftovers? Let me know in the comments below!
Like this post? Share it!
http://brghealth.com/brg/wp-content/uploads/2017/11/thanksgivingleftovers.jpg
2387
3264
Bonnie R. Giller
http://brghealth.com/brg/wp-content/uploads/2017/12/BRG_Headerwpic_2.png
Bonnie R. Giller
2017-11-24 09:00:30
2017-11-23 22:54:41
7 Delicious Ideas for Your Thanksgiving Leftovers