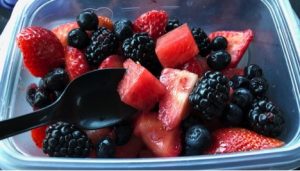 Spring has officially sprung, which means the weather is warmer, the days are getting longer, and the produce tastes fresher! With spring comes many new varieties of fresh fruits and vegetables that may not have been available in the colder months. Buying produce that is in season is not only a great way to purchase the freshest items, but it can also cut costs from your grocery bill.
The 2015 Dietary Guidelines for Americans recommend a daily serving of 2½ cups of vegetables and 2 cups of fruit per day.  Unfortunately, most people fall short of meeting this recommendation for many reasons, including cost of produce, dislike of taste, lack of time to prep and little knowledge on ways to incorporate fruits and vegetables into their daily diet.
Well, I'm here to help you find a way to fit in more fruits and vegetables each day that is simple and even fun!  Fruits and vegetables go with just about all different types of foods and can be seasoned with herbs and spices to give you a flavor you enjoy!
7 Ways to Eat More Fruits and Veggies
1. Make a salad masterpiece– Adding several types of fruits and veggies to your salads can increase the flavor, texture, and overall appearance. It can also ensure that you are eating various different vitamins and minerals, all within one meal! Try to see how many colors you can add to make your dish a work of art.
2. Snack time– Fruits and veggies make a great snack option, and there are many different ways to munch! Try cutting up celery, peppers, and carrots to have with hummus, or add mixed fruit to your yogurt. This will be sure to make your snack more satiating, and tasty.
3. Lettuce wrap– The next time you make a sandwich, try using romaine lettuce as a wrap in place of bread. The lettuce adds a satisfying crunch that won't change the taste of everything else in your sandwich!
4. Portobello pizza crust – Do you love pizza? Did you know you could use Portobello mushrooms as a crust for your homemade pizza?The mushroom adds more flavor and even more nutrients!
5. Savory breakfast– Breakfast doesn't have to always be cereal or eggs. Try making your oatmeal more savory by adding sautéed mushrooms and peppers. You can also add a side of cooked veggies, like you would for lunch or dinner, with whatever you're having for breakfast! Now you'll be starting your day off right with a serving of veggies.
6. Grow your own– Starting a garden is a great way to really appreciate fresh produce, as well as save money! Try experimenting with different seeds to see what would grow best at your home. By having your own garden, you'll also have the convenience of your fruits and veggies being in your backyard!
7. Rearrange your refrigerator– Put your fruits and veggies on the top shelf on your fridge to make sure they are easy to grab in a rush. By doing this, they will be the first thing you see when preparing a meal, ensuring that they aren't forgotten!
Another way to help you eat more fruits and vegetables it to explore new options!  There are so many options when it comes to fruits and vegetables, you're bound to find a few you love to eat and look forward too. Next time you're at the grocery store, make it a point to select something that you've never had and try and work it into a recipe. You'll expand your options in no time!
Spring Produce
Spring is a great time to head over to your local farmer's market, where you'll find all the fruits and vegetables that are in season.  If you can't find or get to a farmer's market, your local grocery store should also have most of the in-season produce you're looking for!
In-season vegetables include: artichokes, asparagus, beets, and cabbage.
In-season fruits include: papayas, strawberries, pineapple, and apricots.
You can also talk to the produce workers at your grocery store to learn more about fruit and vegetables that are new to you. If you want even more help, reach out to me at Bonnie@brghealth.com and we work on this together!
Your turn to take action:How will you incorporate more fruits and vegetables into your daily meals? Let me know in the comments below!
Like this post? Share it!
http://brghealth.com/brg/wp-content/uploads/2018/04/fruit.jpg
267
468
Bonnie R. Giller
http://brghealth.com/brg/wp-content/uploads/2017/12/BRG_Headerwpic_2.png
Bonnie R. Giller
2018-04-27 09:00:36
2018-04-26 20:39:50
7 Easy Ways to Eat more Fruits and Veggies!