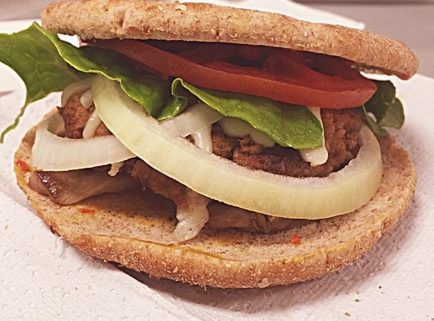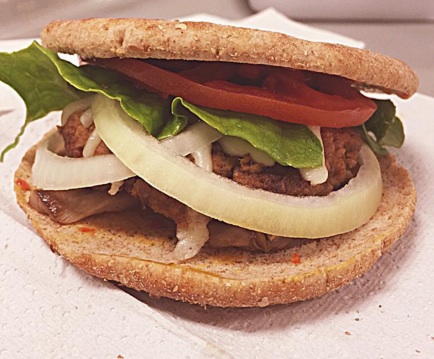 In the midst of this warm winter, I have been having a real hankering for a hamburger. Hamburgers are just about as American as it gets and always remind me of those warm and sunny summer days by the grill. Seeing as the weather lately has been quite reminiscent of those summer days, I thought why not talk about one of America's favorite foods and how to put a healthy spin on it!
The Low-Down on the Hamburger
There have been many claims to fame for the hamburger.  Some say this sandwich got its start in Hamburg, New York, leading to its name. Others say the White Castle creator himself, Otto Kause, came up with this American classic. Whether it be one or the other, one things remains- hamburgers are delicious but on average can run between 250-400 calories! They also can be loaded with salt, fat, and cholesterol. So what is the best way to enjoy your hamburger in a healthier manner?
Go Lean!
One way to get rid of some of the unnecessary calories and fat in the hamburger is to change up the meat being used to form the patty. Most hamburgers are made from an 80/20 mixture of ground beef, meaning that 20% of the meat used in really just fat. Try making your patties out of a leaner type like 90/10 or 96/4. You can even swap out the beef entirely for ground turkey or chicken, which are much lower in fat, calories, and cholesterol. Also, by making your own patties, you can control the amount of salt being added, which can help those trying to live a low-sodium lifestyle. And for all of my vegetarian or vegan friends out there, don't fret! Try grilling a large Portobello mushroom or making your own veggie patties with things like lentils, black beans, brown rice, and quinoa for a hearty meatless meal!
Time to Top it Off
Another source of all of the fat, calories, and sugar in the typical hamburger is the condiments. Skip out on the sugar-laden ketchup and go with some fresh tomato slices. Pass on the mayonnaise and spread on some whole-grain mustard. Get rid of that processed American cheese slice and opt for a slice of light cheddar or Havarti. Finally, it's time to make that burger a sandwich. If you're craving some bread, go for a whole-wheat bun but otherwise try using a lettuce wrap or a pita pocket instead. I promise you won't even miss your typical hamburger bun with all these other great options out there!
Your Turn to Take Action: Take advantage of this warm December weather and light up that grill! Shop for healthy hamburger alternative and see which one you like the best!
Like this post? Share it!
http://brghealth.com/brg/wp-content/uploads/2015/12/hamburger-blog.jpg
359
434
Bonnie R. Giller
http://brghealth.com/brg/wp-content/uploads/2017/12/BRG_Headerwpic_2.png
Bonnie R. Giller
2015-12-25 09:00:34
2015-12-21 10:04:11
A Healthy Hamburger