Fall is just around the corner and with a new season comes new veggies you can celebrate.  Luckily, Wednesday is National Acorn Squash Day, and I'd like to use today to focus on this underrated vegetable.
Do you know where the acorn squash got its name?  That's right, it's named after the acorn!  When an acorn squash is fully grown, its shape resembles large acorns.  It is also commonly called pepper squash or Des Moines squash.
View the Hue
Acorn squash's skin is typically deep green in color with varying patches of yellow.  The flesh is a vibrant hue of orange divided by a bundle of seeds.
You can use the color to know when an acorn squash is ripe.  A ripe squash is dark green and the portion of the squash that was in contact with the ground will turn from yellow to orange.
Squashing the Competition
Acorn squash is extremely nutrient-dense for its size and has a wide range of nutrients.  One cup of cubed squash packs only 60 calories, as well as the following nutrients:
Rich in dietary fiber, which helps regulate digestion and keeps you fuller for longer.
Excellent source of vitamin C, which can boost your immune system.
Significant source of vitamin A, which helps maintain your immune system and aids in vision and skin health.
Good source of potassium, magnesium, manganese, iron, copper, phosphorous and calcium.
High levels of beta-carotene, an antioxidant that plays a role in cancer prevention and other diseases.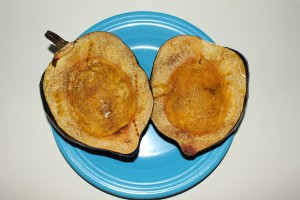 An Appetizing Acorn
 
Does the shape and heaviness of an acorn squash deter you from cooking with it?  Don't let it!!  An acorn squash is easier to cut open than butternut squash and can be enjoyed in a number of ways.
Cut the acorn squash in half, remove the seeds and rub with olive oil and a pinch of salt and pepper. Roast in the oven at 375° for 45-60 minutes.  When it's ready you'll be able to poke a fork through the flesh.
Puree roasted or steamed squash and use it as a sauce over pasta.
Stuff the squash when it's done baking with a meat/grain/vegetable mix. Return it to the oven for an additional 10 minutes to heat everything through.  Try pairing it with ground turkey, quinoa and peas.
Make an acorn squash soup! Roast the squash and scoop out the flesh when it's done cooking.  Add the squash, sautéed onions and garlic, almond milk and vegetable broth to a blender and blend until smooth.  You can enjoy it just like that or serve with sour cream or Greek yogurt, yum!
Don't forget about the seeds!! You can roast them similar to pumpkin seeds. Season with olive oil and throw them in the oven to bake.
Leave the skin on! If you're just going to eat the acorn squash after you bake it, try cutting the squash into slices (think potato fries) or cubes and enjoy!
Acorn squash makes a great accessory to any meal and will definitely impress your guests no matter what way you cook them!
When you're in the grocery store, you can use the color to help you pick the perfect squash or look for other indicators.  A ripe squash will be dull in color, heavy in size, the skin will be hard and the stem will be withered and brown.  Once you bring home the perfect squash, it can stay fresh up to 3 months when stored in a cool, dry place.
Your Turn to Take Action:  What's your favorite way to eat acorn squash?  Let me know in the comments below!
Like this post? Share it!
http://brghealth.com/brg/wp-content/uploads/2016/09/Acron-Squash.jpg
3434
3285
Bonnie R. Giller
http://brghealth.com/brg/wp-content/uploads/2017/12/BRG_Headerwpic_2.png
Bonnie R. Giller
2016-09-05 09:00:36
2016-08-31 10:12:45
All About Acorn Squash