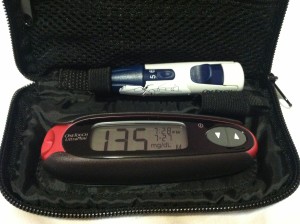 Tuesday March 26, 2013 is American Diabetes Association Alert Day!  This is a "wake-up" call for all Americans to find out if they are at risk of developing type 2 diabetes.  While there are millions of people in the U.S. diagnosed with type 2 diabetes, there are many more that are unaware they may be at risk, or already have pre-diabetes.  I encourage you to take "Diabetes Alert Day" seriously and go see your doctor to get tested.  Visit the American Diabetes Association's website for more information.
Find out if you are at risk– If you are over the age of 45, overweight, and rarely exercise, you may be at greater risk for developing type 2 diabetes.  If you are African America, Latino, Native American or Asian and have a family history of diabetes, then you are also at a higher risk.  Take the simple step to ask family members if there is diabetes in the family so that you can become aware and start making positive changes in your lifestyle today.
Exercise, exercise, exercise- Studies have shown that losing 7% of your total body weight can prevent or slow the onset of diabetes.  Exercising for 30 minutes a day is a great way to start moving and to lose excess weight!  Take a walk with a friend, go to the park with your family or join a gym for motivation.  Not only will you look better, but you will feel better and know that your health is improving because of something that you decided to do to change your life!
Eat well-balanced meals- Getting the right amount of food daily is very important for weight loss and blood sugar levels.  Eat low-fat protein and dairy products, consume colorful fruits and vegetables each day, increase your whole grain intake and decrease simple sugars, especially in items like soda and candy.
Learn about sugar- There may be hidden sugars in the foods that you eat, so don't just focus on the percent daily value of sugar on the food label.  Read the ingredient list and look out for words such as corn syrup, dextrose, maltose, molasses, fruit juice concentrate, sucrose and xylose, which are all terms for sugar.   The American Heart Association recommends no more than 100 calories (approx. 6 teaspoons) from added sugar for most women and no more than 150 calories (approx. 9 teaspoons) from added sugar for most men.
Early detection of any disease is essential in receiving the best treatment and diabetes is no exception. The more you know, the better the chances of living a longer, healthier, happier life.  Make a change today, for the betterment of yourself, and your loved ones.
Your turn to take action: What will you do to "alert" yourself to the risk of diabetes?
Like this post? Share it!
http://brghealth.com/brg/wp-content/uploads/2013/03/Diabetes-meter.jpg
1936
2592
Bonnie R. Giller
http://brghealth.com/brg/wp-content/uploads/2017/12/BRG_Headerwpic_2.png
Bonnie R. Giller
2013-03-25 10:00:02
2013-03-22 14:01:57
American Association Diabetes Alert Day