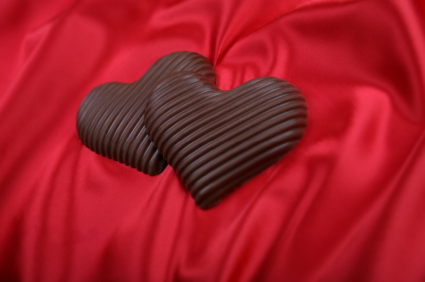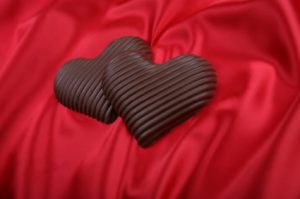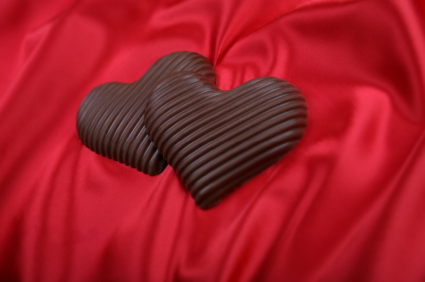 Happy Valentine's Day!  This day of love is one of the most popular nights to go out to dinner with the special person (or people) in your life.  Though going to a fancy restaurant may be nice, spending a romantic evening at home with a delicious homemade dinner for two might be the way to go this Valentine's Day.  Believe it or not, there are foods you can incorporate into your meal that will turn up the heat and ensure that you will have a romantic evening with the one you love.
There are certain foods that are classified as "aphrodisiac" foods, meaning that they promote passion and stimulate desire.  Chilies and pomegranates are a commonly known aphrodisiac food due to their ability to stimulate heart rate and blood flow.  Red wine has a similar effect (as well as providing intoxicating affects).  Oysters are another popular aphrodisiac due to their high zinc content, which can increase the production of the sex hormone testosterone.  Not surprisingly, chocolate is another famous aphrodisiac, which of course is a Valentine's Day staple.
So how can you incorporate these foods into your meal?  Start off with some fresh oysters as an appetizer with some squeezed lemon.  Oysters are also great to incorporate into a seafood linguini along with mussels, calamari, shrimp, crab or lobster.  Keep it healthy by using whole wheat linguini and serve with either a white sauce or a red sauce.  Buy a nice bottle of your favorite red wine to share with your significant other.  A pot of chili is also a quick and easy meal to make for a romantic night in.  Chili is great because it offers a lot of nutrition with the addition of legumes and vegetables.
Pomegranate and chocolate pair well together to make an indulgent dessert for after the meal.  Make a light and healthy chocolate mousse by combining unsweetened cocoa powder, avocado, vanilla extract, sweetener of choice, fat free milk, dark chocolate chips and a dash of salt and placing the ingredients in a food processor.  Top with fresh pomegranates for extra antioxidants and aphrodisiac power!
There is no better way to celebrate love than eating a delicious meal in the intimacy of your own home.  Using some of these aphrodisiac foods will allow you to cook up a healthy and romantic meal for the special someone in your life.
Your Turn to Take Action: How will you incorporate these foods into your Valentine's Day dinner?
Like this post? Share it!
http://brghealth.com/brg/wp-content/uploads/2012/10/Chocolate-hearts-on-red-satin-backdrop.jpg
282
425
Bonnie R. Giller
http://brghealth.com/brg/wp-content/uploads/2017/12/BRG_Headerwpic_2.png
Bonnie R. Giller
2014-02-14 09:00:11
2014-02-13 15:10:22
Aphrodisiac Foods: Turn up the Heat this Valentine's Day!