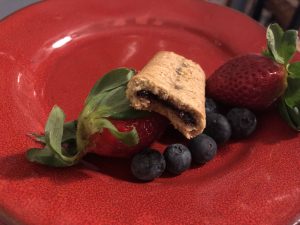 When you find yourself short on time, what is your quick go-to snack choice? Often times, you may choose a granola bar –they are an easy, convenient and cheap option for on the go. However, it is important to know that not all granola bars are created equally.
Luckily, today is National Granola Bar Day, which makes it the perfect time to delve further into the world of granola bars!
Choosing a Granola Bar
When you are choosing a granola bar, it's important to look at the nutrition label. Some brands may make their bars seem healthier than they are with slogans like "100% whole wheat" or "a good source of calcium." However, when you look at the ingredient list and nutrition label you may find that these bars are jam packed with added sugars.
3 Tips for Choosing a Granola Bar
Look for bars that are made with whole grain oats.Try to choose a bar that has whole grain oats listed as one of the first ingredients. Ingredient lists are organized in order of predominance, with ingredients used the most first.
Limit added sugars.Most bars will have some sugar in them naturally from fruits, however aim to choose bars with none to little added sugars. When reading the ingredient list, look out for all the hidden words for sugar – some include sucrose, glucose, dextrose, corn syrup, molasses, cane sugar, etc.
Choose a bar based on your needs.If you are looking for a bar that is higher in protein as a post-exercise snack, make sure you are choosing a bar that reflects that. If you are looking for a quick and filling breakfast, choose a bar that is high in fiber.
Making Your Own Bar
While it's nice to just buy a box in the store, it's even more fun to make your own granola bars!
There are many recipe ideas you can find on the internet, but don't be afraid to get creative on your own! Once you figure out your favorite "base", you can spice it up with different ingredients and "toppings".
Check out a few of my favorite ingredients in granola bars.
Peanut Butter can act as the perfect "solidifier" to your bar(giving it the proper shape), while also providing protein and healthy fats – keeping you full for longer.
Dried Fruits can be a great option, especially if you have a bit of a sweet tooth. They last longer than fresh fruits and can add that touch of sweetness you're craving.
Dark Chocolateis also a great option to curb that sweet tooth!It is not only delicious, but it's full of antioxidants!
If you're still looking for recipe ideas – check out my recipe for Strawberry Banana Oat Bars below!
Strawberry Banana Oat Bar
Yield: 12 bars
Serving Size: 1 bar
Ingredients
1½ cups old-fashioned oats
½ cup crushed bran cereal
2 teaspoons ground cinnamon
1 teaspoon salt
¼ cup brown sugar
1 banana, mashed
1 egg, beaten
1 teaspoon vanilla extract
1 cup sliced strawberries
¼ cup dark chocolate chips
Instructions
Preheat oven to 350°F.
Place oats on a baking sheet in preheated oven for 7-10 minutes.  After five minutes, flip oats.
In a large bowl, mix toasted oats, crushed bran cereal, cinnamon, salt, and brown sugar.
In a smaller bowl, combine the mashed banana, egg and vanilla extract.
Combine the wet ingredients into the dry and mix well.  Mix in strawberries and chocolate chips.
Pour batter into a 11 x 7 baking pan coated with nonstick spray.
Bake for 25 minutes or until edges are golden brown.  Allow pan to cool for 5 minutes before cutting into bars.  Refrigerate if not serving immediately or freeze for later use.
Your turn to take action: Have you ever made your own granola bars? If so, what are your favorite ingredients to add? Let me know in the comments below!
Like this post? Share it!
http://brghealth.com/brg/wp-content/uploads/2019/01/image1.jpeg
3024
4032
Bonnie R. Giller
http://brghealth.com/brg/wp-content/uploads/2017/12/BRG_Headerwpic_2.png
Bonnie R. Giller
2019-01-21 09:00:03
2019-01-16 20:14:51
Are All Granola Bars The Same?