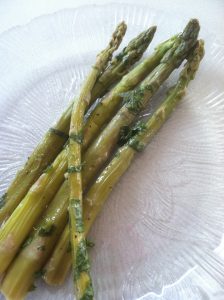 The month of May is National Asparagus Month! Although this may not be your favorite vegetable because of its slightly bitter and unique flavor, asparagus had been a cornerstone of many diets for thousands of years.
Asparagus is a member of the lily family. There are approximately 300 species of asparagus, but only 20 are edible. The most common type of asparagus is green, but there are white and purple versions as well.
This long stalked, green vegetable is loaded with fiber and is high in vitamins A, C, folic acid, and phytonutrients. One phytonutrient in particular, Saponins, have repeatedly been shown to have anti-inflammatory and anti-cancer properties.  Asparagus has also been associated with improved blood pressure, improved blood sugar regulation, and better control of blood fat levels.
Purchasing Asparagus
Asparagus comes in many varieties and can be purchased fresh, frozen or even canned. It is freshest from the months of April through June so the frozen variety might be best outside of these months!  Here are some tips for purchasing asparagus:
If frozen, take note of the use by date and check to see if the asparagus has begun to thaw.
When fresh, purchase if it has a vibrant green color, and a firm stalk.
The tips of asparagus should be dry and closed, which is a major indicator of freshness.
Be sure to eat asparagus within several days as it ripens very quickly, even when refrigerated
Preparing Asparagus
Proper preparation is key when cooking with asparagus.
Start by gently bending the stalk, breaking off the fibrous, thick end.
Rinse off any dirt with cold water.
Asparagus with thick stems should be peeled because the stems are typically tough and stringy.
Eating Asparagus
There are so many ways to enjoy asparagus! Adding it to many traditional dishes such as an omelet can greatly enhance the flavor and nutritional quality of the dish!
4 quick and easy recipe ideas:
Spread asparagus on a tray and brush with olive oil and sea salt for a delicious, crunchy side dish
Put asparagus in a pan with a small amount of water to make it tender and bring out the flavor
Dice asparagus finely and sauté in a small amount of olive oil to add to a stir fry or omelet!
Roast asparagus and pair with cheese and crackers for a delicious on-the-go snack.
If you want to spice up your traditional asparagus recipes, try these 2 BRG recipes!
Be sure to get creative! There are so many ways to add this delicious vegetable to any meal.  It pairs particularly well with a delicious piece of salmon or steak! No matter the way you like to enjoy it, be sure to participate in National Asparagus Month and add it to your next meal!
Your Turn to Take Action: How will you incorporate asparagus in your meals this month? Let me know in the comments below!
Like this post? Share it!
http://brghealth.com/brg/wp-content/uploads/2017/05/Asparagus-1.jpg
2592
1936
Bonnie R. Giller
http://brghealth.com/brg/wp-content/uploads/2017/12/BRG_Headerwpic_2.png
Bonnie R. Giller
2017-05-15 09:00:15
2017-05-10 12:07:55
AsparaGuess What Month It Is?