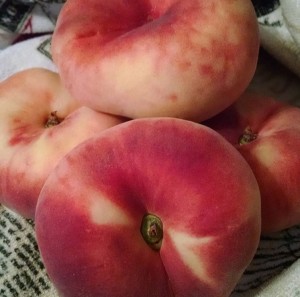 Is there anything better then biting into a delicious and juicy peach? Peaches are in their peak season right now, which makes August the perfect month for National Peach Month! Peaches are enjoyed all over the world and with a seemingly infinite amount of ways to enjoy them. They have a unique taste that is mild and sweet, and nearly impossible not to enjoy.
Did you know that there are many varieties of peaches? You may think of a peach with an orange interior and a peachy color exterior, but there are also white and Saturn peaches.  White and Saturn peaches both have a pale yellow/white interior, but the Saturn peach is more spherical and looks like a doughnut (which is why its also known as the doughnut peach).
Peachy-keen Nutrition
You may not be aware that the peach is a nutrient powerhouse. There is a reason that it is so important to cultures all over the world, and it can greatly increase the nutritional quality of your diet. Its nutritional benefits include:
Helping your body combat free radicals with it's rich antioxidant content, such as vitamin C.
Aiding in regulation of fluid in your body, heart rate and blood pressure with it's high potassium content.
Improving eye health with it's high content of vitamin A.
Supporting your immune system functioning with plenty of vitamin C.
Keeping you feeling fuller for longer with its high fiber content.
Shopping for Peaches
Keep these tips in mind while you are at the grocery store shopping for peaches.
Look for a peach rich in color and that may still have a slight whitish "bloom" on its surface, indicating freshness.
Avoid picking a peach with excessive softness.
Ripe peaches give to gentle pressure and have a sweet aroma.
Make sure there is no green around the stem, which would mean the peach is not fully ripe.
The U.S. currently grows 25% of the world's peaches, so it is easier than ever to enjoy these delicious fruits at their peak ripeness right here at home.
5 Peachy Meal Ideas
Add frozen peach chunks into your next smoothie with strawberries and bananas.
Chop a peach and add it on top of a salad and finish it off with balsamic vinegar.
Mix chopped peaches into your favorite salsa for a fruity kick. Try my recipe here.
Cut up peach chunks in the morning and add them to yogurt for a delicious parfait.
Grill peaches by cutting them in half, removing the pit and grilling until it has char marks. Drizzle with honey and cinnamon for a healthy dessert.
Let your imagination run wild when it comes to peaches. They can add a refreshing twist to almost any recipe so get creative. And don't be afraid to bite into one just like you would an apple!
Your turn to take action: How will you add peaches into your meals and snacks during National Peach Month? Let me know in the comments below!
Like this post? Share it!
http://brghealth.com/brg/wp-content/uploads/2015/08/Peaches.jpg
739
747
Bonnie R. Giller
http://brghealth.com/brg/wp-content/uploads/2017/12/BRG_Headerwpic_2.png
Bonnie R. Giller
2017-08-11 09:00:06
2017-08-08 12:24:28
August is Just Peachy