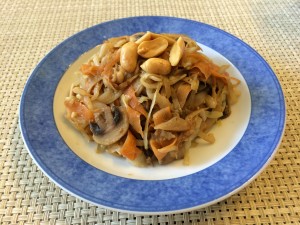 Recipe by Charna Sheinfeld, Nutrition Intern
Serves 2

Ingredients:

1 teaspoon olive oil
4 cups packed shredded white cabbage
8 ounces mushrooms cleaned and sliced
1 carrot, peeled and shredded
2 cloves of garlic minced (or 2 cubes of frozen minced garlic)
1/2 teaspoon salt
1 tablespoon all natural peanut butter
1 tablespoon low sodium soy sauce
1 tablespoon red wine vinegar
1/2 teaspoon ginger powder
1 tablespoon roasted peanuts (optional)
Instructions: 
Heat 1/2 teaspoon of oil in saute pan sprayed with non-stick spray. Add sliced mushrooms and saute 3-5 minutes until they are golden brown and have leached their juices.
Add shredded carrots and saute another 2 minutes.
Remove mushrooms and carrots from pan and set aside.
Heat the remaining 1/2 teaspoon oil and add the shredded cabbage and salt.
Toss the cabbage for 3-4 minutes until it appears somewhat translucent, wilted and golden.
Add back the mushrooms and carrots and stir together.
Add the minced garlic into pan and cook 30 seconds until fragrant.
In a separate small bowl, whisk peanut butter, soy sauce, red wine vinegar and ginger. Mix until incorporated. The mixture will be slightly thick.
Add peanut butter mixture to the stir fry in the pan. Toss everything together and cook for an additional minute.
Serve immediately. Garnish with roasted peanuts (optional).
Serving Size: 1 cup
Nutrition Facts: 
Calories: 180
Total Fat:  9 gm
Saturated Fat: 1.5 gm
Monounsaturated Fat:  4.5 gm
Polyunsaturated Fat: 2.5 gm
Cholesterol: 0 mg
Protein: 10 gm
Carbohydrate: 19 gm
Dietary Fiber : 7 gm
Sodium: 960 mg
Bonnie R. Giller, MS, RD, CDN, CDE  • BRG Dietetics & Nutrition, P.C.
brghealth.com • (516) 486-4569
Like this post? Share it!
http://brghealth.com/brg/wp-content/uploads/2015/10/Cabbage-Stir-Fry-with-Peanut-Sauce-2.jpg
2448
3264
Bonnie R. Giller
http://brghealth.com/brg/wp-content/uploads/2017/12/BRG_Headerwpic_2.png
Bonnie R. Giller
2015-10-07 09:00:56
2015-10-01 14:40:16
Cabbage Stir-Fry with Peanut Sauce