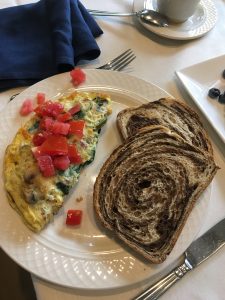 June 3rd is an egg-cellent reason to celebrate because it's National Egg Day!
Many years ago, eggs got a bad rap due to the amount of cholesterol in egg yolks, but recent research has determined the cholesterol in eggs is not as detrimental as once thought. In 2000, the American Heart Association revised its dietary guidelines to include eggs in heart-healthy diets. This is great news for all of those egg lovers out there, but it's also good news for everyone because eggs have great nutritional value!
The Incredible Edible Egg
The eggs we typically consume in the United States come from chickens, but edible eggs can also come from ducks, quail, and even ostriches. Since chicken eggs are easiest to come by and most commonly eaten in the U.S, I will focus on them.
One large egg has 6g of protein! One of the greatest things about eggs is the fact that their whites are a very high quality protein.  This means that your body uses 100% of the protein when you eat them. All other proteins lose some of their nutritional value as we digest them, but not the egg white!
Egg-stra Nutritious
Since egg yolks are meant to nourish chick embryos during gestation, they contain a number of vitamins, and minerals. These nutrients help to ensure the hatchlings emerge as healthy as possible. When you eat the whole egg, you also reap those benefits.
Vitamin D:One whole egg provides 11% of your vitamin D, which is critical for bone health. Since vitamin D is a fat-soluble vitamin, the fat in the yolk also helps you readily absorb it.
Vitamin B12:One whole egg provides 10% of the RDA for vitamin B12. The human body doesn't make vitamin B12 so we must get it from outside sources, and it's only found in animal products. Vitamin B12 helps with DNA replication and red blood cell formation, so it's very important you're getting enough of it. Eggs are an excellent source for ovo-vegetarians, who typically have a hard time meeting the RDA for vitamin B12.
Carotenoids:Eggs contain phytonutrients, including the carotenoids lutein and zeaxanthin, both of which are important in maintaining eye health and may even help stave off age-related macular degeneration, the leading cause of blindness in older adults.
Menu Egg-samples
Most people enjoy eggs at breakfast, but eggs can be used in a variety of savory recipes. They're not just for breakfast anymore!
Shakshuka: This is a fun and different want to poach your eggs than the traditional way! The base of the dish is a sauce made with tomatoes, onions, and red pepper seasoned with Middle Eastern spices like cumin and cloves. Eggs are gently broken into the sauce and the skillet is placed into the oven to gently poach the eggs to desired doneness. Serve with pita or challah bread. It's even better the next day!

Bibimbap: A delicious and nutritious Korean dish, bibimbap is a bowl filled with different foods, topped with a runny egg. Use whatever grain base you like – brown rice or quinoa are my favorites – add sautéed vegetables such as matchstick carrots, bok choy, and shitake mushrooms. Place the egg on top, pierce the yolk to let it coat the ingredients, and enjoy!
Spaghetti carbonara: A classic Italian favorite, carbonara sauce blends salty pancetta (you can use bacon, as well) and creamy eggs, parmesan cheese, and fresh herbs for a savory sauce. The hot cooked pasta is tossed in the skillet with the egg and cheese mixture, heating it slowly to prevent scrambling. Top with chopped parsley and basil for an herbaceous brightness.
Whenever and however you decide to cook them up, eggs are always a great choice, so take today (or every day!) to enjoy an incredible, edible egg!
Your turn to take action:How will you add eggs to your menu? Let me know in the comments below
Like this post? Share it!
http://brghealth.com/brg/wp-content/uploads/2018/05/IMG_8230-e1527773423683.jpg
4032
3024
Bonnie R. Giller
http://brghealth.com/brg/wp-content/uploads/2017/12/BRG_Headerwpic_2.png
Bonnie R. Giller
2018-06-01 09:00:27
2018-05-31 09:37:50
Celebrate National Egg Day!