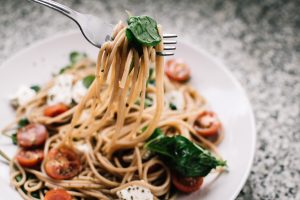 Pasta has been a staple in many people's diets since as early as the 13thcentury.  Pasta made its way to the Americas in 1789 when Thomas Jefferson brought it over. Its popularity has grown even more since then! There are many different types of pasta: penne, ziti, macaroni, farfalle and spaghetti to name a few. Today we are going to talk specifically about spaghetti, as January 4this National Spaghetti Day!
Traditionally, spaghetti is made with semolina flour, which is made from durum wheat. However, there are now so many other options for your spaghetti (actually for all pastas). In your grocery store, you can food chickpea, lentil, quinoa, rice and black bean spaghetti. You can also spiralize veggies at home to make your own veggie spaghetti!
My personal favorite way to enjoy a veggie spaghetti dish is by spiraling zucchini! It's an easy way to get in your serving of vegetables, but still tastes as good as pasta. Keep reading to learn more about "zoodles"!
Oodles of Zoodles
Zoodles are zucchinis that have been put through a spiralizer, to give them the typical long noodle appearance you see with spaghetti. If you are not a huge fan of zucchini you can also try spiraling other long vegetables like carrots or sweet potatoes. Once you have put your vegetable through a spiralizer, there are many ways you can cook your zoodles!
Keep it raw. If you choose to stick with the traditional zucchini you may not want to cook it at all, especially if you typically eat your pasta al dente.
Boil in a pot of water. Just like you make traditional pasta, you can add your zoodles to a pot of boiling water. Your cook time will vary depending on what vegetable you choose. Zucchini should only take about 1 minute to be cooked since it is mainly composed of water while harder vegetables like sweet potatoes will take longer.
Sautee in a pan with a drop of olive oil. Sautéing the noodles may be the fastest and easiest cooking method. It should only take about 1 to 2 minutes for the zoodles to be ready to eat.
Bake on a sheet. If you do not like sautéing, you may want to try baking your zoodles at a low temperature. It is important to keep the temperature low and consistently monitor the zoodles as you do not want them to dry out in the oven.
Once you have prepared your zoodles in the way you like best, you can mix it with some marinara sauce or pesto or keep it simple with olive oil and garlic and enjoy them like you would spaghetti.
Like I said earlier, zoodles are a great alternative if you are trying to incorporate more vegetables into your menus! This can be a fun way to shake up your favorite dishes!
Aside from celebrating National Spaghetti day with zoodles, we should of course celebrate with the real deal – spaghetti! I enjoy whole wheat spaghetti mixed with sautéed veggies and legumes, or with turkey meatballs. Remember, there are no good or bad foods so enjoy your spaghetti just as is!
Your turn to action:How are you going to celebrate National Spaghetti Day? Let me know in the comments below.
Like this post? Share it!
http://brghealth.com/brg/wp-content/uploads/2019/01/basil-blur-cheese-1279330.jpg
4000
6000
Bonnie R. Giller
http://brghealth.com/brg/wp-content/uploads/2017/12/BRG_Headerwpic_2.png
Bonnie R. Giller
2019-01-07 09:00:58
2019-01-03 20:40:14
Celebrate National Spaghetti Day with Zoodles