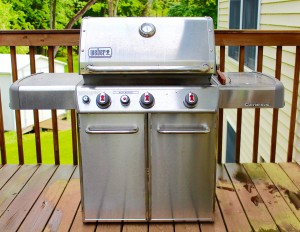 Today starts one of the most anticipated holiday weekends… Memorial Day Weekend! It's a national holiday in which we remember the brave men and women who have died while serving our country.  But, over the years it has also taken on a second meaning.  Memorial Day signifies the start of summer and warmer weather and what better way to celebrate the kick off of summer than by the 1st barbecue of the summer!
Although barbecues are usually filled with less healthy options like burgers, hot dogs, macaroni salad, and French fries, the grill can actually be used to make healthy options as well.  You can find foods to help expand your menu and impress your guests this Memorial Day.
Here are 6 ways to switch things up on the grill this weekend:
Portobello mushrooms can be grilled and used to make a delicious and fun veggie burger!
Lay lettuce leaves on the grill to add an unexpected crunch to your burger.
Grill avocado 5-7 minutes face down to add a smoky flavor AND a boost of nutrients to your burger.
Sliced eggplant and zucchini are easily cooked on the grill and will make a delicious, crunchy side dish.
Top your burger with a grilled pineapple ring for a sweet twist.
Make grilled strawberry fruit kebobs that can be enjoyed as a tasty dessert. This will make them super gooey with a smoky flavor that will make them hard to resist.
Want to try something your guests will love?  Put out bowls of fruit and let your guests make their own fruit kebabs!!  This will make for an exciting party trick all your friends and family will love to take part in.
Tips to Have a Healthy BBQ:
Choose whole-wheat buns for your burgers.
Watch your beverages! The calories from alcohol and sweetened beverages can add up quickly.
Choose low-fat and low sodium cheeses to top your burgers.
Use condiments in moderation as many have hidden fat and sugar.
Incorporate Activities
Memorial Day doesn't have to only be about food.  You can also incorporate activities that everyone will want to play.  If you have a yard that is big enough, set up a volleyball or badminton net that will let the whole party get involved.  You can also have a relay race that will help you work up an appetite.  Or, if you have a pool, you can play Marco Polo and other pool games (just make sure kids are supervised!).
Your Turn to Take Action: What healthy ways will you 'chill and grill' this Memorial Day Weekend? Let me know in the comments below!
Like this post? Share it!
http://brghealth.com/brg/wp-content/uploads/2016/06/Grill.jpg
3456
4468
Bonnie R. Giller
http://brghealth.com/brg/wp-content/uploads/2017/12/BRG_Headerwpic_2.png
Bonnie R. Giller
2017-05-26 09:00:26
2017-05-10 12:11:23
Chill and Grill this Memorial Day