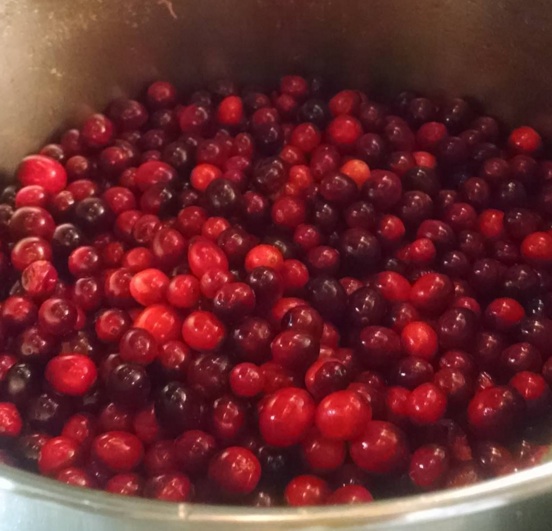 Cranberries are one of the few fruits native to North America. However, you may only think of cranberries around Thanksgiving.   If that's the case, you are missing out! Cranberries are a nutrient-dense fruit that should be incorporated into your diet all year round. They can add color and texture to an already great meal, add a refreshing, tart and light taste to a drink or be eaten straight out of the container.  This versatility is what makes them so popular.
October is National Cranberry Month and is the perfect time to learn more about the humble cranberry!
Crazy for Cranberries
Cranberries are a great source of immune system supporting vitamin C and contain a healthy amount of fiber. They are also full of health benefits for your whole body.  Some of the health benefits include:
Maintaining urinary tract health – this is one of cranberry's best-known benefits.
Reducing your risk of atherosclerosis by neutralizing harmful free radicals in your body with its high phytochemical and antioxidant content.
Decreasing inflammation associated with chronic disease.
Supporting digestive health.
Buying and Storing Cranberries
Knowing what to look for when shopping for cranberries can ensure that you are purchasing the most flavorful cranberries out there.
Here are 3 tips to keep in mind when you are at the grocery store:
Choose firm plump cranberries.
Overlook containers with any shriveled cranberries, as these can increase the speed of spoiling for the whole bunch.
Look for a dark red or yellowish-red color
If you choose to buy fresh cranberries, they should be kept in the refrigerator or crisper and can last several weeks. Frozen cranberries, which are a great alternative to fresh, can be kept in the freezer for several months.
7 Fun Ways to Enjoy Cranberries
Now that you've bought your delicious looking container of cranberries, what will you put it in? Cranberries can be added to so many dishes; the key is to get creative and have fun with these nutrient-packed pieces of fruit!
Dip cranberries in a little bit of dark chocolate for an antioxidant packed snack.
Make your own nut mix with dried cranberries for a delicious snack.
Add fresh or frozen cranberries to your next smoothie for a delicious and tart flavor.
Freeze and add cranberries to your water for a flavorful and refreshing drink.
Sprinkle them on top of your salad for added texture and flavor. Cranberries pair great with salads!
Add dried cranberries instead of raisins to some of your favorite recipes for more color and flavor! Rice pudding, quick breads, muffins or stuffing all taste great with cranberries.
Make a fruit salad with cranberries, pineapple chunks, orange sections and a sweet apple. The combination of these fruits will balance the cranberry's tartness.
Next time you are grocery shopping and are walking past the fruit isle, check to see if they have some fresh or frozen cranberries that you can throw in your cart.
Your turn to take action: How will you incorporate cranberries into your diet? Let me know in the comments below!
Like this post? Share it!
http://brghealth.com/brg/wp-content/uploads/2016/10/cranberries.jpg
531
552
Bonnie R. Giller
http://brghealth.com/brg/wp-content/uploads/2017/12/BRG_Headerwpic_2.png
Bonnie R. Giller
2017-10-09 09:00:28
2017-10-08 14:46:29
Don't be Tarty for National Cranberry Month!