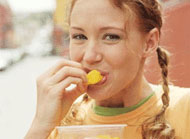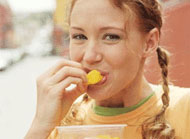 Findings were reported earlier this week from the Journal of American Medical Association, Pediatrics that raises awareness about how to talk to your overweight teenagers about their health.  The study found that when conversations were centered on weight and weight loss, teenagers were more likely to participate in disordered eating and unhealthy weight loss behaviors such as skipping meals and using laxatives.
The research looked at survey data from two population-based studies.  The average age of the teenagers was 14.4 years old and included 2,348 teens and 3,528 parents.  When moms focused their conversations with their overweight teens on healthy eating there was a lower incidence of unhealthy weight-control behaviors and dieting.  Those behaviors were more commonly seen in teens of moms whose conversations focused solely on weight.
More specifically, 64% of overweight adolescents whose mothers talked about weight and weight loss used dangerous behaviors to lose weight as opposed to 41% when conversations focused on healthy eating.  The research also found that when fathers discussed weight with their overweight teens, they were more likely to engage in dieting and unhealthy weight control behaviors.
This study should cause us to stop and think about the conversations we have with our teens about weight.  If your teen is overweight, it likely bothers them as much, if not more, as it bothers you.  Take the pressure off them and teach them about healthy eating habits and food choices and the importance of exercise and set an example by role modeling these behaviors.  Talking about weight, dieting and the number on the scale just puts added pressure on them and drives them to unhealthy diets which sets them up for a ride on the diet roller coaster for many years.
Your turn to take action: How will you engage your teens in conversations about healthy eating and not dieting?
Like this post? Share it!
http://brghealth.com/brg/wp-content/uploads/2013/07/Girl-eating-fruit.jpg
139
190
Bonnie R. Giller
http://brghealth.com/brg/wp-content/uploads/2017/12/BRG_Headerwpic_2.png
Bonnie R. Giller
2013-06-28 10:00:09
2013-07-05 08:45:15
Engaging Your Teens in Healthy Eating Conversations