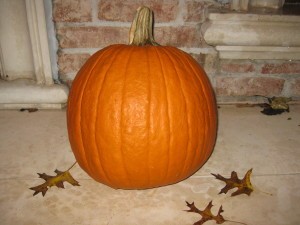 It's that time of the year again! October means fall is officially here and it's time for pumpkin flavored everything! It's also time for jack-o-lanterns and trick-or-treating, but pumpkins can be so much more than simply decoration.
Pumpkins are a cultivar of squash and are planted in the summer to be available in the fall and winter months. Like most squash, pumpkins have male and female flowers, which rely on bees for pollination in order for the plants to produce fruit. Most people only think about pumpkins as Halloween decorations or in pumpkin pie but pumpkins can make a nutritious addition to your diet.
Pumpkin Nutrition
Pumpkin is a nutrient-dense food and one cup of cooked pumpkin contains:
Potassium, which plays a part in keeping your heart and muscles working smoothly.
Vitamin C, which keeps your skin healthy and immune system functioning properly.
Vitamin A, which plays a key role in your eye health.
Beta-carotene, which is believed to stop the oxidation of low-density lipoproteins, or "bad" cholesterol. This can prevent the formation of plaque in your arteries, reducing your risk of heart disease.
What Is Pumpkin Spice?
You may hear about pumpkin spiced lattes and pumpkin pie but what exactly IS pumpkin pie spice? According to Wikipedia, pumpkin pie spice is a blend of ground cinnamon, nutmeg, ginger, cloves, and allspice. It dates back to the 18th century from the first American cookbook ever published. Its part of a recipe for a "pomkin", which is a custard pie seasoned with the spice blend.
Preparing Pumpkins
Pumpkin can always be prepared as the holiday favorite pumpkin pie, but it can be used in savory recipes as well!
Roast wedges of pumpkin sprinkled with cinnamon and ginger until fork-tender and serve as a side dish.
Cube, bake, and then puree pumpkin and butternut squash and blend with milk and vegetable broth for a hearty soup.
Keep the seeds from your jack-o-lanterns and roast them at 350°F until browned and crispy, salt them lightly and enjoy!
Pair pumpkin with brown rice, quinoa, apricots or raisins for a delicious meal.
Pumpkins don't have to just be for Halloween or pumpkin pie. They are a great way to celebrate fall while still getting in some great nutritious food!
Your Turn To Take Action: How will you try to incorporate pumpkin into your meals? Let me know in the comments below!
Like this post? Share it!
http://brghealth.com/brg/wp-content/uploads/2016/10/Pumpkin-3-300x225.jpg
225
300
Bonnie R. Giller
http://brghealth.com/brg/wp-content/uploads/2017/12/BRG_Headerwpic_2.png
Bonnie R. Giller
2017-10-20 09:00:34
2017-10-19 20:41:35
Falling For Pumpkins