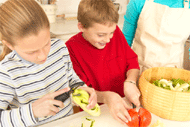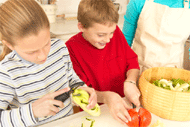 Getting the whole family to sit down to a family meal can seem like next to impossible with everyone's busy schedule. Good thing this month is National Family Meal Month, a month that recognizes the importance of taking time away from your busy schedules to come together and eat a healthy family meal.  With the summer coming to an end very soon and kids coming home from camp and getting ready for school, it seems like a perfect time to try to incorporate more time for family meals.
Sitting down to a family meal has more benefits than you may realize. It doesn't even have to be dinner; it can be lunch, breakfast or even a Sunday brunch.  Most families that eat meals together are happier and healthier than those who don't.  Meals together as a family have many benefits that you might not even be aware of!
Benefits of family meals:
Sitting down and sharing a meal together can help strengthen bonds and relationships with your kids. Sharing stories and laughs can help create long lasting bonds for the rest of their lives.
Getting your picky eaters involved in choosing and preparing their meal can help expose them to a wider variety of foods that they will be eager to try.
Eating one more meal a week at home rather than from a restaurant can save you a lot of money in the long run.
Eating while undistracted by TV or phones can actually make you eat less because you will be more in tune with your fullness cues.
Studies show that children and teens that spend more time with their parents have less behavioral problems and less likely to try drugs or alcohol.
Research has shown that when families eat together in the home, they eat more fruits and vegetables and less fried foods and soda.
Tips for family meals
Plan ahead a time that no one has work, sports practice or school and mark it on your family calendar that that is family meal time. This way no one has an excuse to miss it.
It doesn't have to be fancy, any basic meal will do. It's the experience as a family that will make the meal memorable.
Use this time to show kids how healthy eating can be delicious and easy by finding new ways to incorporate vegetables and whole grains.
If possible, cook in bulk so that you can have leftovers for the next few days.
Take your kids to the supermarket with you and allow them to pick out the fruits and vegetables they want to try and let them prepare the meal.
Eating as a family keeps everyone connected and promotes a strong family unit, something that is very important for the growth and development of your children.  So grab your forks and knives and sit down as a family. Talk about your days and be positive.  You will instill healthy eating habits in your kids without them even noticing.
Your Turn to Take Action: What are some things you love about family meal time?  Let me know in the comments below.
Like this post? Share it!
http://brghealth.com/brg/wp-content/uploads/2016/08/Kids-preparing-vegetables.gif
127
190
Bonnie R. Giller
http://brghealth.com/brg/wp-content/uploads/2017/12/BRG_Headerwpic_2.png
Bonnie R. Giller
2016-08-08 09:00:08
2016-08-03 13:30:25
Family, Fun and Food