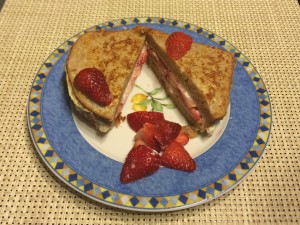 Recipe by Charna Sheinfeld, Nutrition Intern
Serves 3

Ingredients:

1 whole egg
1 egg white
1/3 cup low-fat or fat-free milk
1 Tablespoon + 3 Tablespoon plain fat-free Greek yogurt, separated
1/4 teaspoon cinnamon
1/2 teaspoon vanilla extract
6 slices whole wheat bread
3 teaspoons light maple syrup
6-9 washed and sliced strawberries
Instructions:

In a bowl, whisk together egg, egg white, milk, 1 Tablespoon Greek yogurt, cinnamon, and vanilla.
Working with one sandwich at a time, soak two pieces of whole wheat in the egg mixture for one minute on each side.
Spray skillet with nonstick spray and heat on high heat till hot.
Add both slices of bread and turn heat to medium.
After 1-2 minutes flip both slices. While the bread cooks on the second slice, carefully spread 1 Tablespoon of Greek yogurt on each of the two slices.
Drizzle the yogurt on both slices of bread with 1 teaspoon maple syrup.
Add 2-3 strawberries worth of sliced strawberries on top of one of the slices of bread with Greek yogurt.
Flip the other slice of bread on top of the other bread.
Cook until golden brown, about one minute longer.
Repeat steps 3-10 with the remaining two sandwiches.
Top sandwich with extra sliced strawberries if desired. Serve immediately.
Serving Size: 1 French toast sandwich
Nutrition Facts:
Calories: 210
Total Fat: 4 gm
Saturated Fat: 1 gm
Monounsaturated Fat:  1 gm
Polyunsaturated Fat: 1 gm
Cholesterol: 65 mg
Protein: 13 gm
Carbohydrate: 33 gm
Dietary Fiber : 4 gm
Sodium: 293 mg
Bonnie R. Giller, MS, RD, CDN, CDE  • BRG Dietetics & Nutrition, P.C.
brghealth.com • (516) 486-4569
Like this post? Share it!
http://brghealth.com/brg/wp-content/uploads/2015/05/WW-French-toast-Stuffed-with-Strawberries2.jpg
2448
3264
Bonnie R. Giller
http://brghealth.com/brg/wp-content/uploads/2017/12/BRG_Headerwpic_2.png
Bonnie R. Giller
2015-05-05 09:00:30
2015-05-04 22:55:34
French Toast Sandwiches Stuffed with Strawberries and Greek Yogurt