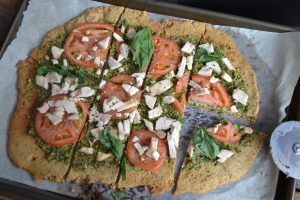 What better way to bring in January than by celebrating National Pizza Week! Pizza is definitely a popular food and this is one food holiday we can get behind.
Did you know that if pizza is made right, it can contain all of the food groups? Yup, you read that right! Some may label pizza as a poor food choice because of all the cheese and calories it contains, but there are many ways to make a healthy pizza to celebrate National Pizza Week!
Make Your Own Pizza
Does making homemade pizza scare you a little bit?  It shouldn't!  There's no need for a special pizza oven to make it, you can use your own oven.
Follow these 6 steps when making your own pizza.
Crust. You can buy frozen whole wheat pizza crust, ask your local pizza place for raw dough, or make your own crust out of veggies, like this Cauliflower crust.
Sauce. Homemade tomato sauce makes your pizza taste super fresh but you can also use tomato sauce from a jar. There are other sauce options that go great on pizza, such as pesto, balsamic and BBQ. This is a great way to switch it up and try new ingredient combinations!  Remember, if you're using sauce from a jar choose one that is lowest in sodium.
Cheese. Top your pizza with your favorite shredded low fat cheese. Mozzarella is a classic favorite, but don't be afraid to try new cheeses such as Gouda, feta, ricotta, provolone or Gorgonzola. Keep in mind portion sizes, you only need a small amount!
Fruit and Veggie Toppings. Warm sliced pineapples or apples taste great on pizza. It adds a slight sweetness that compliments the cheese!  You can also add vegetables like broccoli, eggplant, spinach, peppers, onions and mushrooms to your pizza!
Protein. Include lean sources of protein such as grilled chicken, lean ground turkey, or tofu.
Seasonings. Skip the salt and top with herbs and seasonings like fresh parsley, basil, oregano or cracked red pepper.
Now that your pizza is put together, bake at 450°F until the dough is fully cooked.
Bringing Nutrition to Your Pizza
Keep the following in mind when you are choosing what ingredients to use!
Whole grain crust will amp up the fiber and B vitamins your pizza will provide you with.
Vegetable toppings, such as broccoli, spinach, cauliflower, eggplant, also add fiber, iron, folate and B vitamins.
Tomato sauce contains a powerful antioxidant called lycopene, which can help reduce risk of stroke by neutralizing free radicals from causing harm in your body.
Low-fat cheese provides you with a serving of dairy, which will provide you with calcium and protein.
Use these tips and have your own "DIY Pizza Party" night at your next family dinner! Everyone can make their own, personalized pizza with fruit and vegetable toppings and lean protein to hit all of the food groups!
Your turn to take action: How will you celebrate National Pizza Week?  Let me know in the comments below!
Like this post? Share it!
http://brghealth.com/brg/wp-content/uploads/2017/01/pizza.jpg
3072
4608
Bonnie R. Giller
http://brghealth.com/brg/wp-content/uploads/2017/12/BRG_Headerwpic_2.png
Bonnie R. Giller
2017-01-09 09:00:57
2017-01-05 12:47:51
Get Cheesy During National Pizza Week