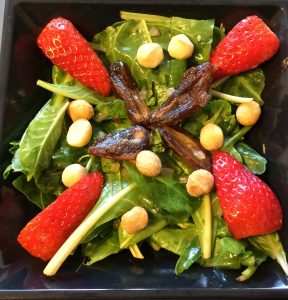 May is National Salad Month and while this may not excite you, I'm a big fan of salads!  I love that salads are not restricted to iceberg lettuce, tomatoes, cucumbers and heavy dressing.  You can make your salad whatever you want it to be!  You can add fruit, beans, nuts, or whatever else makes you happy. I also find it to be the perfect meal on a warm sunny day, which makes May the perfect time to celebrate salads.
I truly believe that you may not like salads because you have not yet made yourself a great salad. Like I said before, I'm not talking about a wedge of iceberg lettuce and some tomatoes here.  I'm talking about a colorful and satisfying salad.  Salads can be made with all your favorite fruits, vegetables, nuts, seeds, and even meats.

Let me take you step-by-step to create your own delicious and mouthwatering salad:
Step 1: Pick Your Base
Most times the base of a salad is some type of lettuce or spinach, but it can also be edamame or chickpeas. If you want your base to be greens, choose dark leafy greens, like spinach and kale.  These vegetables are nutrient-dense and offer you a variety of flavors and textures.  You can also mix a variety of greens together to offer a different flavor.  Mix in romaine lettuce with dark leafy greens if you find their flavor to be too strong.
Step 2: Add Vegetables and/or Fruit
This is my favorite part because you can get as creative as you want.  Typically salads include tomatoes, cucumbers and carrots, but you don't have to stop there!  You can add in cooked vegetables such as mushrooms, red peppers, corn, broccoli, and cauliflower.
Fruit can also be added in to your salads to add a hint of sweetness.  Strawberries and apples are most common, but you can also add mangos, oranges, cranberries, and grapes.
Vegetables and fruit will add more crunch and flavor to your salads, so don't leave them out!
Step 3: Incorporate Protein
Salads can become a meal by adding proteins such as chicken, fish, tofu or tempeh.  These proteins will not overpower your vegetables and fruits, but will add more taste!  You can also add edamame, chickpeas, black beans and other nuts and seeds for other protein options.
Step 4: Dress Your Salad
I love making my own salad dressing.  I like to keep it simple with oil, vinegar and seasonings.  But, I know this may not be realistic for everyone to do.  If you're buying your salad dressing, opt for low-fat, low sodium dressings.  Or keep it simple and just add a little bit of balsamic vinaigrette or olive oil.
Salad Ideas
Now that you know how to make a mouthwatering salad, you can use your creativity to create your own masterpiece.  To help you get started, here are 4 of my own salad recipes:
Wilted Spinach Salad with Strawberries, Dates and Macadamia Nuts. This is the perfect salad for lunchtime on a hot summer day. Find the recipe here.
Mango Red pepper Salad with Spice Crusted Tuna and Lime Dressing. If you love adding fruit to your salad, this salad is perfect for you. The combination of tuna, mango and lime is extremely satisfying.  Find the recipe here.
Roasted Apple and Butternut Squash Salad with Olives. This salad is great for the adventurer.  You may have never thought to combine all these foods and turn them into a salad, but I promise you'll love the way it tastes!  Find the recipe here.
Edamame Chickpea Salad. Although there are no leafy greens here, this is just as much a salad as any other. Find the recipe here.
You can enjoy salad anytime of the year but summer time is the best time to enjoy because salad is so refreshing, and you can make a different salad EVERY DAY!   Be sure to always wash your produce before eating, cut away damaged or bruised areas of fruits and vegetables, and don't leave salad out in the heat because bacteria can form.
Your Turn to Take Action: What's your favorite fruit and vegetables to add to your salad?  Let me know in the comments below!
Like this post? Share it!
http://brghealth.com/brg/wp-content/uploads/2017/05/Wilted-spinach-salad-2-003.jpg
1797
1728
Bonnie R. Giller
http://brghealth.com/brg/wp-content/uploads/2017/12/BRG_Headerwpic_2.png
Bonnie R. Giller
2017-05-12 09:00:57
2017-05-08 14:39:33
Get Creative During National Salad Month