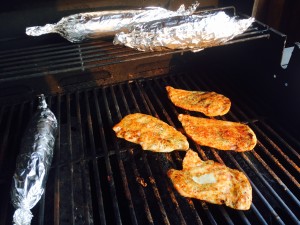 Summer is finally here and that can only mean one thing – it is time to start grilling.  I know I recently wrote a blog about grilling for July 4th, but I just couldn't resist writing another one in honor of National Grilling Month!
I'm sure you know what to expect with your next cookout: savory smells, sizzling sounds, and great food.  According to the Heart, Patio, and Barbeque Association, outdoor cooking remains more popular and the majority of Americans claim that some elements of cooking outdoors are easier than cooking indoors.  This method of cooking is also a popular pastime that unites friends and family with food that tastes great, is easy to make, and is also affordable.
Before lighting up that grill, there are some precautions that should be taken into consideration.  The grill should be cleaned between each use with hot, soapy water to remove charred food debris and reduce the exposure to bacteria.  Adjust the grill so that food cooks evenly—when meat and poultry are too close to the heat source, the outside surfaces cook faster than the inside; it gives the appearance the food is cooked, yet the inside may still need some more time.
Picnicking? Do all of your grilling on-site to prevent the growth of bacteria! And don't forget that marinade—it helps keep meat and poultry from drying out.  As a final safety tip, bring plenty of cookware to the barbecue—designate utensils for raw and cooked meats in order to prevent any contamination and the spreading of bacteria.
Now that you're equipped for your safe cookout, it's time to think about the menu.  Think beyond the traditional hotdogs and hamburgers this summer and exchange them for some healthier options.  Don't worry, just because they're healthy does not mean they won't be tasty!  Whether you're a vegetarian or an avid meat lover, there is something delicious to grill.
Go lean by grilling up a Portobello burger as an alternative option, or a turkey burger.  Did you know that turkey breast can be as lean as 99 percent fat-free?  Spice things up with cilantro, shallots, or chili to add some flavor.  Just remember to use a food thermometer to ensure the ground turkey reaches 165 degrees Fahrenheit.
Toss some nutrition into your meals, and a splash of color, by grilling up some vegetables.  Baste peppers, corn, eggplant, etc. and season with spices of your choice then place on a hot grill until tender and brown.  Another way to cook your veggies is by placing them in tinfoil with olive oil and seasoning.  Mix your veggies with your meat for a tasty kabob!
Don't forget about dessert.  Yes, you can even make your dessert on the grill!  Place fruit kabobs, pineapple slices or peach halves on low heat until the fruit is hot and slightly golden for a delicious and nutritious dessert.  These can be eaten as is or used to top your favorite low-fat ice cream or low-fat yogurt!  You can even toss watermelon on the grill; watermelon is primarily made up of water and when the water evaporates it leaves behind an intense watermelon flavor.  Grill it on each side for about 30 seconds and enjoy.
Let's recap!
Wash the grill between each use to prevent exposure to bacteria.
Control the heat so the inside cooks evenly.
Bring proper cooking gadgets such as tongs, spatula, and marinade. Also have utensils for raw and cooked meats to prevent cross-contamination.
You can go lean with ground turkey or Portobello mushrooms.
Add a splash of color with fresh vegetables.
Grill fruits for a delicious yet nutritious dessert.
Your turn to take action: Share your grilling adventures below!
Like this post? Share it!
http://brghealth.com/brg/wp-content/uploads/2015/07/Grilling.jpg
2448
3264
Bonnie R. Giller
http://brghealth.com/brg/wp-content/uploads/2017/12/BRG_Headerwpic_2.png
Bonnie R. Giller
2015-07-10 09:00:17
2015-07-07 20:28:55
Get Grilling During National Grilling Month