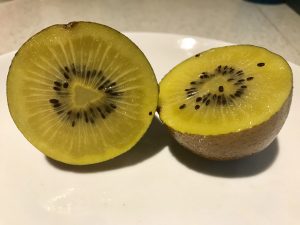 Did you know that Kiwis are native to Northern China?  From China, they traveled on to New Zealand and continuously spread throughout different places around the world, gaining popularity along the way.  Kiwis aren't often praised enough for their nutritional benefits, but they most definitely should be!  This underrated fuzzy fruit is more than just a sweet treat – it is a powerhouse packed full of nutrients!
Take advantage of August as we celebrate National Kiwifruit Month!
Kiwi Nutrition
Here are just a few of the nutritional benefits kiwifruits have to offer:
Fiber– This fruit contains a good amount of fiber that will assist digestion and keep you feeling fuller for longer!
Vitamin C– which helps promote healing, aids the body in iron absorption and helps your immune system stay healthy.
Vitamin E– This nutrient will help support healthy skin and eyes!
Potassium– Did you know that a kiwi has more potassium than a banana? This mineral can help regulate blood pressure by working with sodium.
Antioxidants– Kiwi is plentiful in antioxidants, which help reduce the risk of cancer and heart disease.
Folic acid– Aside from helping maintain a healthy heart, folate can decrease the risk of birth defects in pregnant women.
6 Kiwi Meals and Snacks
Looking for some ideas on how to make use of kiwis?  Here are 6 ways that you can utilize this fruit!
Dice into small pieces and mix into Greek yogurt for a quick and easy snack.
Make your own frozen kiwifruit bars! Blend together with other fruits of your choice such as pineapples and berries, add water if needed and pour onto ice pop molds.  Freeze for a few hours and serve.
Blend kiwi with fruits such as strawberries and bananas, flax seeds, yogurt and milk and ice for a cold and refreshing smoothie.
Create your own fruit salad. Cut up kiwi, pineapple and papaya and toss; add in lime juice for a tropical fruit salad.
Use as a natural meat tenderizer. Cut the fruit in half and rub it all over the meat.  You can also smash kiwi, spread it and cover the meat and let sit for 10-15 minutes.
Eat as is! – Cut in half and scoop out the flesh for a fresh serving of kiwi.
Next time you're thinking of what fruit to grab, don't hesitate in reaching for a kiwi!
Your turn to take action:  How will you incorporate kiwifruits into your menus?  Let me know in the comments below!
Like this post? Share it!
http://brghealth.com/brg/wp-content/uploads/2018/08/IMG_6969.jpg
3024
4032
Bonnie R. Giller
http://brghealth.com/brg/wp-content/uploads/2017/12/BRG_Headerwpic_2.png
Bonnie R. Giller
2018-08-24 09:00:30
2018-08-16 04:52:53
Get Your Kiwi On!