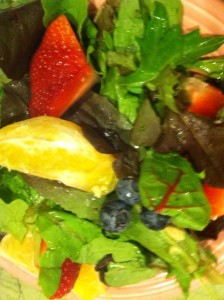 May is National Salad Month and while this may not excite many people, I am a huge salad fan, especially this month. I feel like this year the weather went from snow days to beach days practically overnight. During these warm days I notice my appetite changes my body wants more cold dishes than hot ones. Cue the salads!
I truly believe that salads only get a bad reputation because you have not yet made yourself a great salad. We aren't talking a wedge of iceberg lettuce and some tomatoes here, we are getting creative! Salads can be made with all your favorite fruits, vegetables, nuts, seeds, and even meats.
Let's go through this step by step.
Step 1: Pick your greens. Not only is iceberg lettuce pretty boring, it contains few nutritional benefits. Dark leafy greens are much more nutrient dense and offer a variety of flavors and textures. Dark greens are part of the cruciferous family of vegetables which are known for their antioxidants and phytochemicals. Greens such as kale, spinach, and Swiss chard are full of vitamins C and E. If you're easing into salads, try romaine lettuce or mixed greens because they don't have as strong a flavor.
Step 2: Add your veggies (and fruit too!). Typically salad vegetables include tomato, cucumber, and carrots, but you are not limited here. Mix in your favorite vegetables for a wider variety of nutrients and flavor. Even cooked vegetables such as roasted mushrooms or red peppers can be tasty with a raw salad. Also try to add a variety with textures by chopping some vegetables and thinly slicing others. This will be more interesting to eat than if everything was the same shape and size. Don't be shy of trying fruit too. Strawberries or grapes are popular choices to top a salad.
Step 3: Make it a meal with protein. Salads aren't just a side dish. Adding protein can turn a salad into a very satisfying meal. Lean proteins such as chicken, fish, tofu, or tempeh go really well in a salad and will not overpower the veggies. Beans, nuts, and seeds are also tasty in salads. Try adding black beans in a taco-inspired salad or garbanzo beans in a Mediterranean-inspired salad.
Step 4: Dress it. Making your own salad dressing is the best route to take. Store bought salad dressings are often loaded with calories and fat from oils and cream, plus they may contain high levels of sugars as well. A great base salad dressing can be made with balsamic vinegar, oil, and lemon juice. This can adapt to suit a lot of different recipes by mixing in different seasonings. If you are eating out, choose oil and vinegar as your dressing or ask for your dressing on the side. This will allow you to control how much goes on your salad.
Four easy steps and a little creativity is all it takes to make a delicious and satisfying salad. All you have to do now is to give it a try. Say "so-long" to the days of thinking salads can't be a meal and "hello" to all the great new recipes you will find.
Your turn to take action: Set a goal to make at least one meal this week a nourishing salad. Remember to use a variety of vegetables and to add a lean protein to get the most nutrients from your salad. Please share below your favorite salad recipe.
Like this post? Share it!
http://brghealth.com/brg/wp-content/uploads/2015/05/Mixed-Greens-Citrus-Berry-Salad-2.jpg
2592
1936
Bonnie R. Giller
http://brghealth.com/brg/wp-content/uploads/2017/12/BRG_Headerwpic_2.png
Bonnie R. Giller
2015-05-18 09:00:56
2015-05-19 15:10:15
Give Your Salad a Makeover