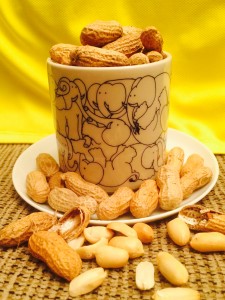 March is one of my absolute favorite months. It brings the promise of warmer weather and flowers begin to bud. All throughout the month, the season slowly transitions into spring.
Want another reason to love March? It's also National Peanut Month, which makes this truly a time for celebration!
Up until 1974, the humble peanut was only given one week of celebration but, lucky for us, that decision was overturned and now we have the whole month to celebrate!
Peanut Facts:
Did you know…
One 12-ounce jar of peanut butter has over 500 peanuts in it
Former U.S. presidents Thomas Jefferson and Jimmy Carter started off as peanut farmers
Surveys have shown that people on the east coast prefer creamy peanut butter where the west coast prefer crunchy
Peanuts are sometimes referred to as ground nuts because they grow underground
Peanut Nutrition
So now that you have a few facts about peanuts, it's time to talk about the health benefits the humble peanut can offer you!
A burst of protein in a small package. A serving of peanuts is roughly 28 peanuts and will provide you 7 grams of protein! For a plant food, the peanut is an excellent source of protein, and can be the perfect way to consume high quality protein during that midmorning snack.
Heart healthy fats: Peanuts contain high amounts of mono- and polyunsaturated fatty acids. A diet rich in these types of fats has been associated with a reduction in certain risk factors for cardiovascular disease!
Loaded with vitamins and minerals: Peanuts are loaded with a host of different vitamins and minerals including Biotin, Niacin, Folate, Vitamin E and Phosphorus. These vitamins and minerals play a critical role in skin health and the maintenance of body tissue. Folate is of particular importance during pregnancy and plays a critical role in nervous system development.
3 Peanut Meals and Snacks
So now that you know why you should be adding peanuts to your diet, it's time to learn a few fun ways to eat them!
An oldie but goodie: Nothing sparks childhood memories like a classic peanut butter and jelly sandwich. Trying using whole grain bread to help increase the fiber! Get creative and try using different types of jelly made from fruit sources such as peach and apricot for a unique twist on an old favorite.
Crack and snack: Spending the day in the park? There is no better snack than shelled peanuts when at an event outdoors (they can be a bit messy). Have a blast cracking shelled peanuts and enjoy a delicious and nutritious snack while spending the day outside being active with the family.
Breakfast on-the-go: Peanuts are a great addition to granola! Mix 1 cup of dry granola with a handful of peanuts, mixed berries and 4 tablespoons of honey together and spread flat on a sheet in the shape of bars. Place in the refrigerator overnight, and enjoy some quick and easy homemade granola bars the next morning!
Your turn to take action: How will you celebrate National Peanut Month? Let me know in the comments below!
Like this post? Share it!
http://brghealth.com/brg/wp-content/uploads/2016/03/Peanuts-2.jpg
3264
2448
Bonnie R. Giller
http://brghealth.com/brg/wp-content/uploads/2017/12/BRG_Headerwpic_2.png
Bonnie R. Giller
2018-03-09 09:00:40
2018-03-08 18:52:11
Go Nuts for National Peanut Month!