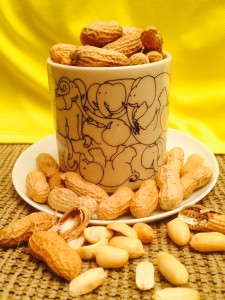 The crowd is roaring with excitement.  Everyone around you is munching on foot long hot dogs and drinking out of large cups filled with iced cola.  You hear the sound of the batter's swing hitting the ball out of the park—home run, the crowd roars again.  You spot the vendor coming by just as your stomach starts to grumble with hunger.  But what do you want? "…I want peanuts and cracker jacks…!" —or just peanuts!
With a couple of weeks left before the official start of fall, there are still plenty of summer foods to enjoy (and baseball games to attend).  One food in particular is the peanut, whose National day is September 13th.  Believe it or not, peanuts aren't really nuts at all.  Technically, peanuts are legumes, meaning they are a simple dry fruit in the same family as peas and beans.  But what does this mean for peanuts and your health?!
Go Nuts for Peanuts
Your heart will love peanuts as much as you do because peanuts are rich in monounsaturated fatty acids or MUFA (the type of fat emphasized in the well-known, heart-healthy Mediterranean diet to help prevent coronary artery disease and strokes).  MUFA help to lower low-density lipoprotein (LDL) or "bad cholesterol" and increases high-density lipoprotein (HDL) or "good cholesterol" levels in the blood.
In a study published by JAMWA International Medicine, the more nuts people consumed, the lower their death rates were from various causes, especially from heart disease and stroke. The Food and Drug Administration has also made health claims, stating that "Scientific evidence suggests but does not prove that eating 1.5 ounces per day of most nuts as part of a diet low in saturated fat and cholesterol may reduce the risk of heart disease."
Nut-rition Facts
According to the Peanut Institute, peanuts (and peanut butter) pack a lot of nutrition into a single serving.  A serving of raw peanuts is just 1 ounce, giving a high energy dose of 161 calories, 7.3 grams of protein, 4.6 grams of carbohydrates, 2.4 grams of dietary fiber, 14 grams total fat, as well as 0 mg of cholesterol.
In addition, peanuts provide resveratrol, an antioxidant that acts to protect the body against damage linked to increased risk for cancer and heart disease.  The kernels are an excellent source of vitamin E, a powerful lipid soluble antioxidant to help maintain cell membranes of the skin.  Nuts are also packed with important B-complex vitamins, folate and niacin which contribute to brain health and blood flow to the brain.
Nut-Free
But peanuts aren't always all fun and games.  Although peanuts can bring you many health benefits, they can also be deadly to some.  Peanut allergies are one of the most common food allergies found in children in the United States.  And they don't have to be consumed to cause problems; the proteins in the air can solely affect people who are sensitive.  The most common association with peanut allergies is anaphylaxis, a sudden and potentially deadly condition that requires immediate attention and treatment.  So it's important to be aware of this when enjoying your peanut snacks with others.
Nutty Business
If you're looking to add more peanuts into your menus, but aren't quite sure as to how, here are some tips.
Sprinkle peanuts onto tossed salads.
Add peanuts to healthy sautéed chicken and vegetables.
Make your own trail mix using peanuts as the base. (Check out the

Trail Mix blog

)
Craving something sweet that isn't overindulgent? Using a double-boiler, melt dark chocolate and pour onto a tray lined with parchment paper then smooth it out gently with a spoon.  Sprinkle on some peanuts and even some shredded coconut for some added color.  Place the chocolate in your freezer for at least one hour; when cooled, break into pieces for yummy dark chocolate "peanutty" pieces.
Enjoy National Peanut Day and crack open some peanuts.
Your Turn to Take Action: What's your favorite way to enjoy peanuts? Let me know in the comments below.
Like this post? Share it!
http://brghealth.com/brg/wp-content/uploads/2015/09/Peanuts-2.jpg
3264
2448
Bonnie R. Giller
http://brghealth.com/brg/wp-content/uploads/2017/12/BRG_Headerwpic_2.png
Bonnie R. Giller
2015-09-11 09:00:15
2015-09-10 23:56:43
Go Nuts for Peanuts