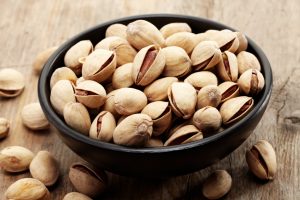 Who doesn't love a delicious Pistachio? Not only are they packed with nutrients, but they are one of the most fun foods too eat!  They may take some effort to eat, but they are absolutely worth it in the end. Luckily, next Monday, February 26th, is National Pistachio Day so I have you covered with all of the pistachio information you need!
Pistachios are known as the "happy nut" because when their shell opens, it looks like they are smiling at you! Pistachio nuts grow in a heavy grape-like cluster and, as they ripen, they begin to open on their own, which is the perfect time to eat them. Most pistachios are grown right here in the United States, mainly in California, which makes this delicious, heart healthy nut one of the most easily accessible nuts you can add to your diet today!
Pistachio Benefits
Nutrient-dense:

Pistachios provide a large number of nutrients with a relatively low number of calories, which is what makes them nutrient-dense. A one-ounce serving of pistachios provides only 150 calories, but has 3 grams of fiber, 6 grams of protein, and is loaded with Vitamin B6 making it the perfect snack!

Antioxidants:

Pistachios are rich in polyphenols and tocopherols, which are both antioxidants.  It is actually considered to have the third highest antioxidant content of all nuts. Antioxidants help reduce inflammation in your body, reduce your risk of cardiovascular disease, protect your eye health, and help fight against aging!

Heart healthy:

Because of the high antioxidant content in pistachios, they have been shown to help reduce your risk of developing cardiovascular disease and your LDL cholesterol levels while increasing your HDL cholesterol (thanks in part to their high fiber content too)!
Eat More Pistachios!
Now that you know how nutritious pistachios can be, it's time for the fun part!
1. Crack 'em and eat 'em: Sometimes, the simplest solutions are the best and most fun! If you are looking for a delicious and nutritious snack to help fill the gap between lunch and dinner, the pistachio can be your solution! A handful of pistachios can provide you with the perfect number of calories, protein, fiber and heart healthy fat to help round out any diet!
2. The perfect salad topping: Are you tired of eating the same salad every day for lunch? Grab a handful of pistachios and sprinkle them on top of your next salad! Not only will this add a surprising and fun flavor to your salad, but it will help improve the texture of your lunch by providing a nice crunch!
3. Pistachios and oats: Have you ever tried overnight oats? If you're in a rush in the morning, this could be the perfect grab-and-go breakfast. The night before, mix half a cup of dry oats with either water, milk, almond, or coconut milk (the more liquid the soupier it will be) in a container and place in the refrigerator. In the morning, add some fresh fruit and a handful of cracked pistachios, and possibly a dash of honey for something a little sweet! This recipe will get your day started the right way!
4. Fruit and pistachios: Looking for a new snack to try? Mix a handful of pistachio nuts with a handful of berries for a deliciously balanced snack. Your taste buds will love the mix of salty and sweet!
There are so many ways to incorporate pistachios into your day, don't be afraid to get creative!
Your turn to take action: What's your favorite way to eat pistachios?
Like this post? Share it!
http://brghealth.com/brg/wp-content/uploads/2018/02/Pistachio-nuts.jpg
3743
5615
Bonnie R. Giller
http://brghealth.com/brg/wp-content/uploads/2017/12/BRG_Headerwpic_2.png
Bonnie R. Giller
2018-02-19 10:06:20
2018-02-19 10:09:14
Go Nuts for Pistachios!