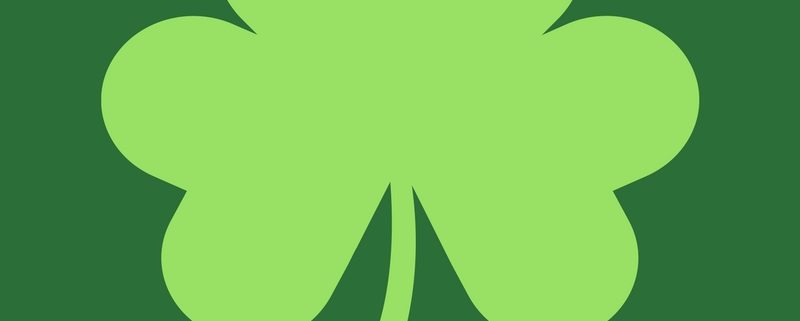 Did you know that St. Patrick's Day started in the early 17th century as Christianity's homage to the patron saint of Ireland? The United States started having parades to celebrate St. Patrick's Day in the 18th century. It has since exploded and is the most celebrated holiday in the world! It is believed that on March 17th, everyone has the luck of the Irish!
Much of the St. Patrick's Day celebration is centered around food and alcohol. However, according to the Catholic Church, alcohol (and some foods) are traditionally forbidden during Lent. This led the Catholic Church to lift the Lenten rules for the day and people are free to celebrate!
Celebrating the shamrock
St. Patrick was a 5th century Roman Catholic missionary who dedicated his life to converting indigenous Gaelic pagans to Christianity. He used a three-leafed plant called a shamrock to explain the Holy Trinity to them, which is why shamrocks are an integral part of the St. Patrick's Day celebration. In Ireland, it's common for revelers to put shamrocks in their beverages and toast to the saint, then finishing their drinks and tossing the shamrock over their shoulder for good luck.
St. Patrick's Day Staples
Holidays often come with token foods, and St. Patrick's Day is no different.
Irish soda bread is a traditional quick bread which uses baking soda instead of yeast for leavening. Buttermilk is traditionally used as the liquid ingredient, although yogurt or even stout beer can be used. Quick breads require no kneading and no time to rise, so they're easy to prepare.
Did you know that corned beef and cabbage is not Irish at all? In centuries past, Irish immigrants in the United States often lived in neighborhoods with other ethnic immigrant groups. It was there that Irish immigrants were introduced to Jewish corned beef, which was a less expensive way to enjoy meat, a difficult ingredient for many immigrants to afford. Add inexpensive vegetables like cabbage and carrots, throw it all into one pot, and you had a tasty celebratory meal.
Green…everything?
Whether it's bagels or beer, you are likely well-versed in the St. Patrick's Day color scheme of green on green. Ireland is known as the Emerald Isle, which had a large impact on the abundance of green for the holiday, although green shamrocks play their part as well. Chicago has dyed their river green since 1962 and the White House even colors one of their fountains green for the holiday.
Here are 6 ideas on how you can GREEN up YOUR St. Patrick's Day!
Corned beef hash and spinach pancakes: What better way to celebrate St. Patrick's Day than by starting at breakfast? Take your traditional corned beef and have it for breakfast, instead! Pair it with spinach pancakes to add a pop of green!
Roasted green vegetables: Preheat oven to 450 degrees and spread broccoli spears, Brussel sprouts, and baby bok choy, sprinkle with olive oil, salt, and pepper and roast for 20 – 30 minutes or until soft and slightly charred. Add this to your lunch or dinner for a TON of green at your meal!
Green smoothies: Grab a few handfuls of spinach or baby kale, some frozen pineapple, and a banana and blend together, adding milk to smooth it out to your desired consistency. This can be the perfect on-the-go snack that'll let everyone know you love St. Patrick's Day!
Spinach and artichoke dip: Having friends over? Start with a green dip, like spinach and artichoke. Pair with green tortilla chips for a fun, festive snack!
Green fruit salad: Make your own fruit salad with all green fruits! Add grapes, kiwi, honeydew melons and green apples to a bowl and all you'll see is green. Pair it with Irish Soda Bread for a delicious dessert.
Zucchini-oatmeal cookies: Do you love to have "green" cookies on St. Patrick's Day? Well, you can make your own version of "green" cookies WITHOUT using any dyes. Zucchini-oatmeal cookies are naturally green, and they still taste delicious. Give them a try this St. Patrick's Day!
St. Patrick's Day is a day filled with food and festivities that everyone can partake in. So go green March 17th and enjoy!
Your turn to take action: How will you green up your St. Patrick's Day? Let me know in the comments below.
Like this post? Share it!
http://brghealth.com/brg/wp-content/uploads/2018/03/Happy-St.-Patricks-Day.jpg
800
800
Bonnie R. Giller
http://brghealth.com/brg/wp-content/uploads/2017/12/BRG_Headerwpic_2.png
Bonnie R. Giller
2018-03-16 09:00:08
2018-03-15 22:16:19
Going Green for St. Patrick's Day