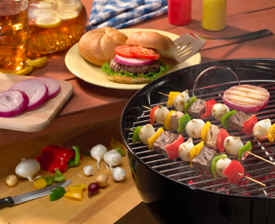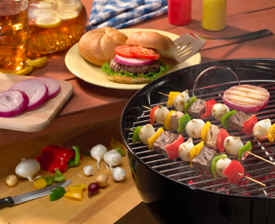 Today is a national holiday in which we remember the brave men and women who have died while serving our country.  Over the years, Memorial Day has also taken on a secondary purpose as being the kickoff to warmer weather in which family and friends gather for the first barbecue of the summer. Though barbecues typically present with the traditional burgers, hot dogs and macaroni salad, the grill is actually a great way to cook a variety of healthy foods that will expand your Memorial Day menu and impress your guests.
Here are some fun and healthy ways to get creative with your grill this summer:
Kebobs are a popular favorite at all summer barbecues and the combination of fruits and vegetables are endless!  A fun tip would be to add 1 or 2 lemon wedges to your kebabs.  The grilling will dull the sourness of the lemon while maintaining a perfect burst of citrus flavor.
You don't have to be a meat eater to enjoy a summer barbecue either.  The grill can be vegetarian friendly also!  Veggie burgers aren't the only food choice you have when it comes to the barbecue – experiment with grilled tofu.  Cut the tofu into ½ inch slices, soak them in your favorite marinade and throw on the grill.  Enjoy over a salad or brown rice.
Grilled vegetables such as zucchini, eggplant, corn, peppers and onions are a must have at all summer barbecues.  But what about grilling other vegetables such as romaine lettuce or avocados?  Grilling your salad greens is a great way to add a smoky flavor to the salad you serve at your barbecue.  Grill for about 4-5 minutes on each side, or until grill marks appear and use as a bed for your grilled vegetables.  The same goes for avocados, another unexpected food that tastes great on the grill.  Cut it in half, remove the seed, coat with a bit of olive oil and place face down on the grill for 5-7 minutes.  Top it off with Greek yogurt and salsa and scoop it out with some whole grain tortilla chips!
Fruit is probably one of the best foods to place on the grill because it really brings out the sweet flavors of any fruit.  Grilled pineapple is a common favorite that is not only delicious to eat as a dessert but place on top of your burger for a tropical twist.  Grilled berries, watermelon, grapes, peaches and pears are other options to include in your barbecue menu.
So have fun with your grill this Memorial Day and for all of the other barbecues to come this summer.  Happy Memorial Day!
Your turn to take action: What are some of your favorite foods to grill?
Like this post? Share it!
http://brghealth.com/brg/wp-content/uploads/2014/05/bbq.jpg
224
275
Bonnie R. Giller
http://brghealth.com/brg/wp-content/uploads/2017/12/BRG_Headerwpic_2.png
Bonnie R. Giller
2014-05-26 10:00:19
2014-05-23 15:54:57
Grill it Up This Memorial Day