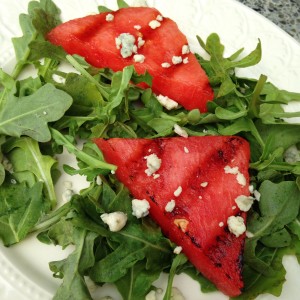 The pinnacle of the summer has arrived. Fourth of July weekend is the perfect time to celebrate with friends and family while catching some sun. With all of the pasta salads, burgers and desserts it's easy to get a little carried away. Don't stress, there are a few ways you can make this holiday healthier- and it's easier than you think.
Never Too Late to Marinate
Marinating your meat is the perfect way to add flavor to your main course without slopping on all the excess butter and fat. It will take a little bit of research and some preparation ahead of time but trust me, it's worth it. Marinating meat does more than just add a flavor kick. A study at Kansas State University found that steaks marinated in vinegar, oil and herbs reduced the amount of carcinogens by creating a "barrier" between the protein and the heat emitted by the grill. This is on top of the powerful antioxidants you can find in herbs and oil. So for more reasons than one, test out a flavorful marinade this July 4th. And remember to choose lean meats and seafood for an overall wholesome meal.
Choose the Whole Grain
While you're at the grocery store this season, try swapping out your potato bread buns for whole grain buns. It's so simple you might have overlooked it. The major difference between the two is that whole grain bread is not refined. Most of the wheat kernel is still intact which provides a multitude of health benefits. The kernel contains a combination of extra fiber, B vitamins, antioxidants and minerals like iron, zinc, magnesium and copper that contribute to all around health. The USDA MyPlate suggests that at least half your grains be whole grains. This will not only help you lose the extra pounds but also reduce the risk of many cancers as well as type 2 diabetes and heart disease. So why not reach for the whole grain buns? Your burgers will be just as delicious, if not better than before.
Fruity Fun
Surprise your guests at your Fourth of July barbeque with some exciting colors and flavors. Get ready to fire up the grill because there's a whole lot more than burgers and steaks to flip. Load up your barbeque with not only a variety of vegetables but unexpected fruits as well. Try grilling some watermelon and tossing it in an arugula-balsamic salad. Drizzle honey on grilled peaches- it pairs well with ice cream. Serve grilled figs alongside goat cheese and prosciutto. Or add some pineapple cubes to your kebabs. Whatever you decide to do, introduce fruit to the barbeque and you won't be disappointed.
Though this may not be new news, it's important to keep portion sizes in mind while you're out celebrating. If you're in charge of cooking, cube your meat before you cook it; set out smaller portions so guests won't be inclined to take more than they should.
If you're just out having fun, moderation is key- that goes for both food and alcohol. Regardless, this is your time to relax and have fun this summer.
Your turn to take action: What are your favorite fruits to grill? Have any marinating advice? Share your BBQ tricks and experiences below.
Like this post? Share it!
http://brghealth.com/brg/wp-content/uploads/2015/07/Watermelon-grilled.jpg
2448
2448
Bonnie R. Giller
http://brghealth.com/brg/wp-content/uploads/2017/12/BRG_Headerwpic_2.png
Bonnie R. Giller
2015-07-03 09:00:58
2015-07-01 12:03:36
Grilling to Perfection this 4th of July