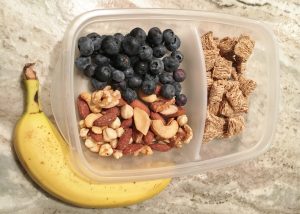 Believe it or not, summer is in full swing! The days are longer, the weather is warmer and the children are off to camp. Going to the beach is one of my absolute favorite summertime activities and is yet another opportunity to practice mindful eating strategies!
Do you pack a cooler full of goodies when heading to the beach, or do you tend to "wing it" and hope to find something at one of those food stands? Not only are the lines long and the foods grossly overpriced, but the food stands at the beach are often missing healthy food options for you and your children. There is nothing wrong with enjoying an ice cream cone on a hot summer day, but planning ahead can help prevent you from having to choose less nutritious food options because there's no other choice.
5 Snacks to Throw in a Cooler
Having a cooler handy can be one of your greatest allies when heading to the beach on a long day, and can greatly expand your nutritious food options. But let's face it. Between the strollers, shovels, buckets and other beach toys, sometimes a cooler is simply not an option. Here are some great snack ideas to bring with you to the beach (with a cooler or without one), so you can be ready for anything!
Food heats up quickly in the sun so keeping food cool is critical. A cooler is a great place to store your fruits and veggies as well as some drinks and juices! Some cooler snacks to pack include:
Cut up strawberries and blueberries
Veggie sticks to dip in hummus
Cheese sticks and a piece of fruit such as a banana
Yogurt and some mango or melon to dip in it
Frozen grapes to snack on later in the day
The cooler is also a great place to store drinks. Water is your best option on those long hot days but throwing in some natural juices can be a great alternative!
No Cooler? No Problem!
Don't give up on the idea of making healthful food choices while at the beach if you don't have a cooler handy! There are plenty of healthy snacks that you can bring along with you that do just fine without the cooler! Some of these snacks include:
Mixed nuts put in a container or Ziploc bag
Whole grain crackers or cereal
Nut butter sandwiches on whole grain bread
Whole grain granola bars that are high in fiber
Although not having a cooler may limit the amount of fruits and veggies you can bring with you, there are still plenty of healthy options for you and your family to enjoy! The key here is to get creative and to plan ahead.
Your turn to take action: Plan ahead for your next trip to the beach. Plan out some snacks that you are going to bring with you, and if you think it may be too hectic in the morning, pack some items the night before! Let me know how it goes in the comments below!
Like this post? Share it!
http://brghealth.com/brg/wp-content/uploads/2017/06/healthy-summer-snacks.jpg
2738
3834
Bonnie R. Giller
http://brghealth.com/brg/wp-content/uploads/2017/12/BRG_Headerwpic_2.png
Bonnie R. Giller
2017-07-03 09:00:52
2017-06-29 18:26:01
Healthy Bites to Bring to the Beach