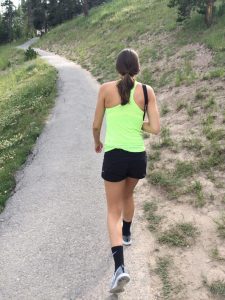 Engaging in exercise is something you may struggle with daily, whether it's because of the weather, driving to the gym, or time management.  For some, the summer brings increased opportunities for body movement. This is because exercise can finally be taken outdoors!  You can go for a long walk near your house or in a park and play sports with friends or family.  The best part about summer is you can turn anything into a way to get your body moving.
Luckily, tomorrow, June 3rd is National Trails Day!  Hiking and exploring new trails is another way to get your body moving this summer.  It's the perfect way to explore areas around you that you didn't' know existed and enjoy the outdoors.  You can go for a flat, leisurely hike or a steep, difficult hike that will give you great views.  Either way, it's your choice!
Here are 5 hiking tips to help you enjoy exercise and summer days:
Research trails before you go. Some trails are steep and difficult, while others may be flat and easier to enjoy.  Both types of hikes are good for your body, but make sure you assess what your body is capable of doing.   Start off with a flat hike and work your way up.
Always bring extra water and a snack. Hikes can go on for miles, so it's important to go prepared, especially during the hot summer days.  Pack a bag with ice cold water and a snack to keep your body properly fueled.  Bring a peanut butter sandwich, pretzels or a piece of fruit!
Stretch before and after. Although hiking may not feel like exercise to you, you should still prepare like you would any other exercise.  Start your hike off with a few stretches to get your muscles loose, it'll make your hike more enjoyable.  You should also end your hike with a few stretches.  Your body will thank you the next day when you don't wake up sore!
Bring a friend. Hiking (and exercise in general) is always better with a friend, or two.  Ask your friends to go with you and use it as a way to catch up and hang out.  You can enjoy a picnic at the end of the trail to recharge before heading back down.
Try a new trail every time. You don't have to go on the same trail each week! You'd be surprised to learn how many trails are actually around you when you look for them.  It can also be fun to travel a little to explore new areas.  You can make a day trip out of it.
Remember, exercise doesn't always have to mean a trip to the gym.  Don't be afraid to step outside your comfort zone and try something new.  Hiking can be a fun experience and you'll still be working your body!
Your Turn to Take Action: Go out for a hike this weekend with friends or family and enjoy the weekend.  Let me know how it goes in the comments below!
Like this post? Share it!
http://brghealth.com/brg/wp-content/uploads/2017/03/image001.jpg
1024
768
Bonnie R. Giller
http://brghealth.com/brg/wp-content/uploads/2017/12/BRG_Headerwpic_2.png
Bonnie R. Giller
2017-06-02 09:00:10
2017-05-17 15:44:01
Hiking, A "Hidden" Exercise?