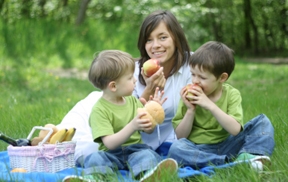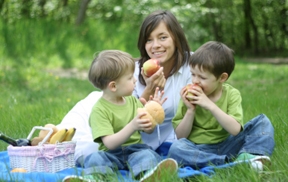 July is the perfect month to celebrate National Picnic Month.  When my kids were younger, we used to pack a picnic basket and head to the local park with a blanket and outdoor toys.  I know for some people planning a picnic could take weeks and could get overwhelming, but don't let something as fun as a picnic stress you out!
First thing's first—what are you going to pack?
Packing a delicious and nutritious picnic is a cinch!
For a fun and healthy appetizer, skip the cheese and crackers and try edamame. A half a cup of edamame is just 100 calories and 2.5 grams of fat.  Bags of frozen edamame can be found in the freezer section of your supermarket and take only a few short minutes to cook!
Substitute chips and dip for hummus and whole-wheat pita chips or vegetables for a healthier twist! Include raw veggies such as carrots, celery, broccoli, and cauliflower to add that crunch. Not a huge fan of hummus?—dips like salsa and black bean options are great as well.
Salads are a healthy and filling option for a picnic—as long as they're done right! Start with freshly washed, leafy greens, then add fresh veggies.  Use low-calorie or low-fat dressings such as a vinaigrette but wait to toss onto your salad until at the picnic so your lettuce doesn't get soggy.  Make this your meal by adding lean protein such as baked chicken breast or beans.
If you have access to a grill, burgers are easy and quick to prepare; they're also a favorite option for any picnic. Consider turkey, chicken, or veggie burgers for a lower fat burger. Try black bean and corn salsa, roasted peppers, or grilled mushrooms for healthier topping options.
Fruit kabobs–an easy and sweet dessert that is perfect for all ages. Cut up cubes of your favorite fruits, such as pineapple, peaches, strawberries, bananas, and grapes and slide onto a skewer.
Bring an assortment of kid-friendly and adult beverages, such as bottled water and juice.
Picnic Food Safety
The next thing you should think about for your summertime picnic is how to keep your food safe.  Bacteria love the warm summer days and multiply very quickly; use these tips to keep bacteria away and your family safe.
Bring water or moist towelettes for washing hands and surfaces. It is important to wash your hands before and after handling food to prevent spreading foodborne illness.
Be sure raw meat and poultry are wrapped securely so that their juice doesn't spill out and cross-contaminate other foods.
Pack enough disposable utensils for both eating and serving—don't use the same utensils to handle raw and cooked foods to prevent cross-contamination.
Keep cold foods cold by packing the cooler just before you leave with plenty of ice or frozen ice packs and avoid frequently opening the cooler to protect the perishable foods. Try storing beverages and perishable foods in separate coolers to keep the food cold!
Keep hot foods hot by consuming cooked foods no longer than 2 hours after removed from the grill. Raw meat and poultry may contain bacteria that can cause foodborne illness and must be cooked and held at temperatures either above or below the temperatures in which bacteria can grow.  Pack your food thermometer to make sure your food is cooked to the proper temperatures: 160 F for burgers and 165 F for chicken breasts.  Always clean your thermometer with warm, soapy water after each use.
Outdoor Fun
Plan some fun games that everyone can enjoy!  This will keep everyone active while enjoying the hot, summer day.
Sports Games: Football, softball, Frisbee, and volleyball are generally crowd favorites. These items can be found at your local sporting goods store or discount store.
Teambuilding Games: Bring family and friends together for a relay, potato sack race, or a water-balloon toss.
Relaxing Games: When it's time to get out of the sun and into the shade try playing bingo, trivia, or cards.
Water Games: You may want to bring an extra pair of clothes for this! Squirt gun battles and a Slip 'n' Slide are perfect for a hot, summer day.
Stay hydrated, wear sunscreen, and enjoy yourself and those around you!  Take in the fresh air and enjoy the sunny day.
Your turn to take action: Pick a day (or two) this month to plan a picnic, or attend one! Keep these helpful tips in mind and let me know how it goes!
Like this post? Share it!
http://brghealth.com/brg/wp-content/uploads/2015/07/Family-Picnic.jpg
182
288
Bonnie R. Giller
http://brghealth.com/brg/wp-content/uploads/2017/12/BRG_Headerwpic_2.png
Bonnie R. Giller
2015-07-17 09:00:53
2015-07-15 17:02:47
How to Create Your Perfect Picnic