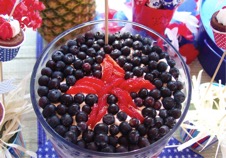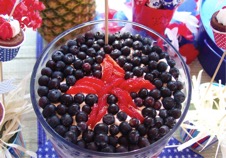 The 4thof July is a favorite summer holiday that is enjoyed with friends and family. It is a great time to catch up with loved ones while also catching some rays. For some, parties that are filled with delicious barbecue, dessert, and beverages can cause stress and worry. However, this should not be the case! Whether you're hosting or attending a party as a guest, there are plenty of ways to stay mindful while also enjoying your day!
4 Fabulous Tips for A MindfulHoliday
Make your spread as colorful as possible– Creative dishes using bright fruits and vegetables add a pop of color to your table and plate. This ensures your 4thof July snacks are not only good for you, but are fun to eat as well. Try making an American flag using strawberries, blueberries and homemade whipped cream for dessert – YUM!See how many creative ways you can decorate with red, white, and blue!
Buy small disposable plates– Using a smaller plate can help you stay aware of how much you put on your plate. When using larger plates, it's very tempting to fill it to the brim to avoid it looking empty. Remember, you can always go back for more if you're still hungry.
Play ball!– Barbecues don't have to just be about the meals and snacks. You can also have a great time being active! Pack a baseball and mitt, Frisbee, kickball or some tennis rackets and enjoy playtime in the great weather. You could also just keep it simple and go for a nice walk before or after!
Slow it down– This holiday is a time to relax and you should be doing just that as you eat! Don't rush to finish your plate, or quickly munch on snacks without really enjoying what you are eating. Take the time to focus on all of the delicious food you're eating. This will help give you more satisfaction with your meals and you'll find you don't need to eat as much!
Perfect Tips for a Healthy Holiday
Along with tips on how you can keep your holiday mindful, here are a few more tips to make your barbecue the best yet!
Swap out your usual hamburger bun for a whole-wheat alternative or even a lettuce wrap! The lettuce wrap adds a delicious crunch to your already tasty burger.
Eat a hearty breakfast beforehand, as showing up starving can lead to overeating on foods you don't necessarily enjoy!
Avoid filling up on sugary beverages. Instead choose seltzer or water, which can be easily flavored with fresh fruit or cucumber slices.
Ride your bike or walk to your barbecue if it's close enough to your home. This can help you start out your day in an active way. Just be sure to pack extra water and sunblock!
Be mindful of your condiment selection! Aim to start with only a small amount on your plate. You could always add more if you need it!
Last but not least, HAVE FUN! Enjoy this day with your loved ones and focus on the great time you will all have together. Happy Independence Day!
Your turn to take action:How will you stay mindful this 4th of July?  Let me know in the comments below!
Like this post? Share it!
http://brghealth.com/brg/wp-content/uploads/2018/06/Fruitjpg.jpg
158
226
Bonnie R. Giller
http://brghealth.com/brg/wp-content/uploads/2017/12/BRG_Headerwpic_2.png
Bonnie R. Giller
2018-07-02 09:00:15
2018-06-28 12:27:27
How to Have a Healthy and Intuitive 4th of July