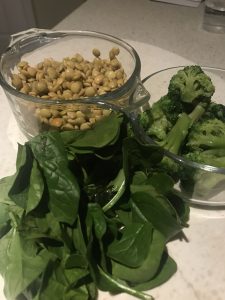 Did you know that January was National Folic Acid Awareness Month?Folic acid is one of the few nutrients you may not often think of when it comes to your daily intake – as a society, more time is spent focusing on vitamin D, fiber and protein (along with a few other nutrients). However, folic acid is an essential vitamin that needs to be talked about more!
Even though National Folic Acid Awareness Month is coming to an end, it doesn't mean we have to stop talking it!
What is folic acid?
Folic acid is a B vitamin that is also known as folate, which is an essential vitamin, meaning that you need to consume it through dietary means because your own body cannot make it.
This vitamin is needed to help your body make healthy new blood cells, as well as cells for your skin, hair and even nails! They all make up your entire body.  This is why its especially important for women that are planning to get pregnant or are pregnant to get a sufficient amount of folic acid in their diet since it helps form the spine and prevents brain birth defects.  There is also research that shows that it has helped lower the risk of cardiovascular disease, strokes and certain cancers.
4 Tips to Increase Your Folic Acid Intake
Now that you know how important folic acid is, how will you include it in your diet? Here are 4 tips to help you increase you intake!
Eat plenty of fruits and veggies– Some good sources are citrus fruits such as oranges and leafy greens such as spinach.
Legumes– There is a variety of legumes that you can try out such as lentils, chickpeas, pinto beans and other dried beans and peas.
Fortified foods– You can find some foods that have been fortified with folic acid such as cereals, oatmeal and breads.Make sure you look at the nutrition label to see that it says "100%" next to folate!
Take a multivitamin that contains folic acid– Look for one that contains at least 400 micrograms, which is the recommended amount for adults. Do not exceed 1000 micrograms daily, as an excessive amount can be dangerous to consume.
Just remember, it's important to ensure your body is getting enough folic acid, whether you're planning on getting pregnant or just simply trying to stay healthy!
Your turn to take action:  What foods will you eat to help ensure that you're getting enough folate in your meals?  Let me know in the comments below.
Like this post? Share it!
http://brghealth.com/brg/wp-content/uploads/2019/01/IMG_7540-e1547763884942.jpg
4032
3024
Bonnie R. Giller
http://brghealth.com/brg/wp-content/uploads/2017/12/BRG_Headerwpic_2.png
Bonnie R. Giller
2019-01-25 09:00:05
2019-01-17 17:25:15
How's Your Folic Acid Intake?