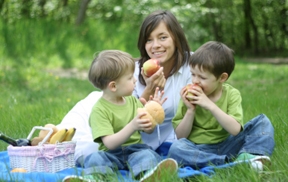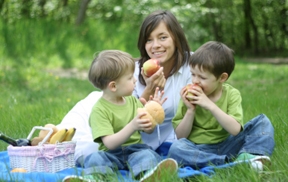 Is there any better way to take advantage of a beautiful day than to have a picnic? Picnics are such a refreshing and fun way to spend time with loved ones and can be a great opportunity to get some fresh air. Today, April 23rdis National Picnic Day, and is the perfect time to get out and get some fresh air!
When you hear the word picnic, do traditional picnic foods pop into your head? Do you think of foods like fried chicken, mayonnaise heavy salads, hamburgers, hotdogs, cookies and chips? This year, let's make National Picnic Day a healthy one to remember!
4 Nutritious Meals and Snacks Perfect for Picnics
Are you looking for those fun snacks and foods to bring on your next picnic? Impress your companions with these nutritious picnic ideas!
A Delicious Cheese Plate:Starting your picnic off with a delicious cheese spread could set the tone for an overall nutritious picnic. Low-fat cheeses are packed with protein and healthy fats that are sure to keep you satisfied. Try breaking out a few different types of cheese for a delicious variety.
Hummus and Whole Grain Pita Chips:Hummus, which is made from chickpeas, is a source of heart healthy fat, has roughly 10g of protein per serving and comes in so many delicious flavors! Pair it with whole grain pita chips for a fiber packed snack that's easy to eat outside.
Turkey and Apple Sandwich: Sandwiches are a picnic classic. Instead of settling for the traditional sandwiches, try a turkey and apple sandwich on whole grain bread. It is light and refreshing, high in protein and has plenty of fiber to keep you satisfied!
Fruit and Greek Yogurt:When you think of a picnic dessert, you probably are thinking sweet and savory. A variety of fruit dipped in Greek yogurt will give you just that! Try dipping strawberries or sliced melon in Greek yogurt for a sweet, yet savory twist. Greek yogurt is loaded with protein and offers a nutritious, creamy alternative to whipped cream. This light and delicious dessert will have you ready for all of the picnic activities that are sure to follow!
Tips for an Easy and Fun Picnic
If this is your first picnic, keep these tips in mind that can help your picnic run smoothly!
Bring plenty of drinking water to stay hydrated all day.
Always bring extra water, soap and hand sanitizer to keep your hands clean when handling your food.
Making a fresh salad the night before will not only give you less stress on picnic day, but the ingredients will have time marinate, giving you better flavor on your picnic day.
If you are bringing a grill to your picnic, cut up and pack vegetables the night before and whatever else you plan to grill the night before. This will make the morning off easier and stress-free.
Picnics can also lead to fun outdoor physical activities.  Bring Frisbees, a ball and bat, hula-hoops, jump ropes or any other fun games to play while you're there.
Wear sunblock.  While vitamin D is good for you, it isn't good to soak up too much sun!
Make sure you pack enough ice! In the summer heat, food can easily become spoiled and unsafe to eat. Make sure you immediately place your leftover food in the cooler so it won't go bad.
Follow these tips and keep an eye on your picnic basket because it will be gone before you can say, "Happy Picnic Day!"
Your turn to take action: How will you celebrate National Picnic Day? Let me know in the comments below!
Like this post? Share it!
http://brghealth.com/brg/wp-content/uploads/2015/07/Family-Picnic.jpg
182
288
Bonnie R. Giller
http://brghealth.com/brg/wp-content/uploads/2017/12/BRG_Headerwpic_2.png
Bonnie R. Giller
2018-04-23 09:00:55
2018-04-18 19:07:45
It's Time to Break Out Your Picnic Basket!