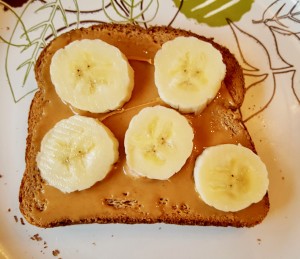 Did you know one 12-ounce jar of peanut butter contains 540 peanuts?
Peanut butter is one of the most loved foods nationwide and is the leading use of peanuts in the United States, which is why there is an entire month to celebrate America's favorite spread – November is National Peanut Butter Lovers Month! 
Nuts for Nutrition
Although peanut butter is a high caloric food, it is filled with other valuable nutrients. Remember, a serving of peanut butter is 2 tablespoons.
Fiber – keeps you feeling fuller for longer and helps regulate your digestive tract. There are 2g of fiber in one serving of peanut butter.
Protein – also keeps you full and this is a good vegetarian protein source. It is a high-protein food with 7g of protein per serving. 25% of a peanut is protein!
Vitamin E – is an antioxidant that can rejuvenate skin cells and help you maintain a healthy glow. Peanut butter provides 3mg of this powerful antioxidant.
Potassium – works with sodium to help regulate your blood pressure. Peanut butter provides 200 mg.
Peanut butter is also filled with heart healthy fats. Nuts contain monounsaturated fats. These fats help reduce your LDL level (bad cholesterol) while maintaining your HDL level (good cholesterol).
Peanut Butter Snacks
Are you looking for a way to switch up your traditional peanut butter and jelly sandwich?
Here are 5 other ways you can enjoy peanut butter!
Spread peanut butter on celery with raisins. YUM. I'm sure you've either eaten this as a kid or given it to one of your kids, but its perfect for any age.
Add a tablespoon of peanut butter to your morning oatmeal.   You'll end up with a slightly nutty flavor and smooth texture.
Toast a slice of bread, spread some peanut butter and top off with sliced bananas for a delicious and nutritious snack.
Cut apple slices and spread peanut butter on them for another perfect mid-day snack.
Add a tablespoon of peanut butter to your morning smoothie!
If you're picky about textures, peanut butter comes in many different varieties. There's creamy, crunchy, chunky, extra crunchy, natural (this usually comes with some natural separation of the oils), unsalted, "no stir", and reduced sugar. Though crunchy peanut butter has slightly more fiber and folate than its counterpart, smooth peanut butter has a tiny bit more protein and vitamin E. If you're like me, you're part of the 60% of American's that prefer smooth over chunky.
I recommend choosing the natural brands of peanut butter over commercial brands for less sugar per serving. You may have to mix it before using it, but the separation is natural!
Your Turn to Take Action: What is your favorite way to eat peanut butter?
Like this post? Share it!
http://brghealth.com/brg/wp-content/uploads/2016/11/PB-and-banana.jpg
2988
3463
Bonnie R. Giller
http://brghealth.com/brg/wp-content/uploads/2017/12/BRG_Headerwpic_2.png
Bonnie R. Giller
2016-11-28 09:00:10
2016-11-24 21:18:32
Join the Peanut Butters Lovers Club