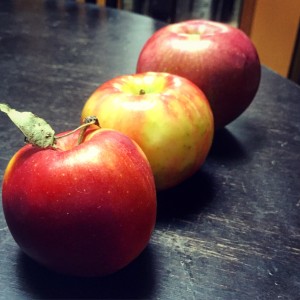 Is there anything better than a fresh, juicy apple? The kind that has a crisp crunch and leaves juice running down your arm. YUM.
Fall brings us cooler air, shorter days and the changing colors of the leaves, but it always gives us some of the freshest and most delicious apples you can find all year. October is National Apple Month and is the perfect time to learn all you need to know about apples!
With a seemingly endless variety of apples out there, it can be so easy to find your favorite. Whether it is a tart apple that leaves a refreshing taste in your mouth or a sweet and smooth apple that makes for the perfect dessert, there is an apple out there for you. All you have to do is go to a local grocery store and your adventure can begin!
An Apple A Day…
Apples can often be forgotten, left on the table in a basket for a centerpiece. But adding apples to your diet really can keep the doctor away. This is because they are a nutrient-dense food, meaning you'll get a lot of nutrients with only a little bit of calories. Here are a few of the numerous health benefits:
Vitamin C, which plays a critical role in keeping your immune system healthy.
Fiber, which aids in healthy digestion and keeps your gut healthy.
Antioxidants, which help to reduce your risk of cardiovascular disease by aiding your body in unclogging your arteries.
6 Ways to Have Fun and Eat Apples
Incorporating apples into your diet can be a fun and very delicious experience. There are many creative ways to incorporate apples into your diet, and the fall provides an excellent opportunity to not only start eating more apples, but to use them as an excuse to get more active!
Here are 6 ways to have fun with apples:
Find a local farm and go apple picking. These apples will be extremely fresh as you'll be the one picking them off the tree!
Slice apples up and eat them with your favorite nut butter. Add raisins for more fun!
Make homemade apple pie with all those apples you picked. I promise this will taste better than anything store bought.
Add chopped apples to your salad with walnuts and light raspberry vinaigrette. This fresh salad will keep you full while also satisfying your sweet tooth.
Bake apple slices sprinkled with cinnamon in the oven for a deliciously warm treat that's great after dinner. It'll warm you up, as the nights get colder.
Chop apples and mix into oatmeal for a hearty breakfast. Sprinkle a little cinnamon on top and it'll feel more like dessert than breakfast!
Apple Recipes that Can't Be Beat
Check out a few of my very own recipes. Enjoy!
Whole Grain Stuffing with Apples. This is perfect for any meal, but can also be a hit at Thanksgiving. Check it out here.
Roast Chicken with Apples and Leeks. If you've never had apples as a side dish before, then its time to try this recipe. You will not be disappointed. Check it out here.
Roasted Apple and Butternut Squash Salad with Olives. Again, if you haven't had apples as part of a meal before, you should try this. The apple and squash compliment each other very well! Check it out here.
The ways to enjoy apples are endless. Between variety, flavor and texture, there is an apple out there for anyone and everyone. They are the perfect snack, make a delicious filling for pies and are the perfect excuse to get out and enjoy the beautiful fall weather!
Your turn to take action: How will you incorporate more apples into your day? Let me know in the comments below!
Like this post? Share it!
http://brghealth.com/brg/wp-content/uploads/2016/10/Apples-3-in-row.jpg
2028
2028
Bonnie R. Giller
http://brghealth.com/brg/wp-content/uploads/2017/12/BRG_Headerwpic_2.png
Bonnie R. Giller
2017-10-23 09:00:40
2017-10-22 17:06:33
Keep The Doctor Away During National Apple Month