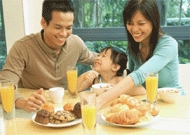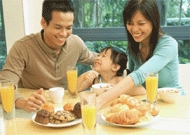 Did you know that 1 in 3 children are currently overweight or obese? That number continues to grow at an alarming rate! This is why today is a very important day. It marks the start of National Childhood Obesity Awareness Month.
Childhood obesity increases a child's risk of developing preventable diseases as an adult, such as type 2 diabetes, high blood pressure and heart disease. It also tends to lead to sedentary lifestyles in adulthood, which further increases their risk of developing health issues. On top of their health being effected, their social environment is also changed. Obese children tend to be bullied more often and face more social pressures that may otherwise be avoided. Fighting childhood obesity will help make changes in your child's physical and mental health for the better.
You may be unsure of where to begin if your child is overweight. Putting your child on a diet will not serve your child well. In fact, it will begin a tumultuous relationship with food that will follow him/her into adulthood.
Instead, start with encouraging small changes that can be done as a family.
Here are 5 tips to get you started:
After dinner each night, go for a walk, play tag in the yard, or do any activity your child loves to do!
Incorporate fruits and vegetables into each meal. Start with fruit and veggies you already know they enjoy and slowly build from there. You can make it fun such as making a veggie pasta or pizza.
Include more whole grains each day. Swap out white bread for a multi-grain or whole wheat bread, depending on what your child is willing to try. You can also use whole grain pasta or mix whole grain and white pasta together to ease the transition.
Limit screen time for your child and teach them about moderation. They can still watch TV and play video games, as long as it's followed by playing outside with a sibling, with friends, or playing a sport.
Be a good role model. You child looks up to you, so show them how you lead a healthy lifestyle. If you want your kids to eat their vegetables, then you eat them too. If you want your child to watch less TV and move more, show them you do the same.   Expose your child to a variety of healthy foods so they are willing to try new things.
Small changes each and every day will have a monumental effect on the life of you and your children. Remember to enjoy all of the moments and memories you will be making along the way!
To help you even further, I have a free gift for you: My 3 Step Formula to Help Your Kids Create a Healthy Relationship with Food! Download your gift here!
Like this post? Share it!
http://brghealth.com/brg/wp-content/uploads/2017/09/Family-meals-1.jpg
135
190
Bonnie R. Giller
http://brghealth.com/brg/wp-content/uploads/2017/12/BRG_Headerwpic_2.png
Bonnie R. Giller
2017-09-01 09:00:35
2017-08-31 13:29:31
Let's Fight Childhood Obesity