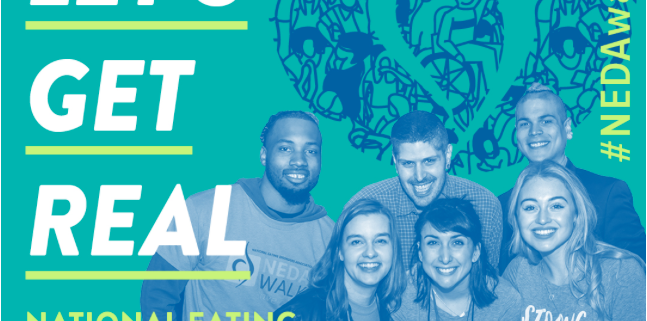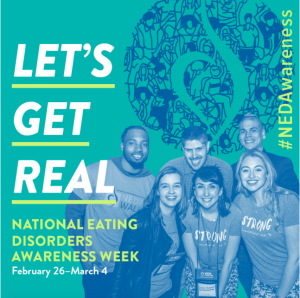 According to National Eating Disorders Association (NEDA), 30 million Americans will struggle with a full-blown eating disorder and millions more will battle food and body image issues that have untold negative effects on their lives. That's a lot of individuals with an unhealthy relationship with food and/or their bodies.
Every year, NEDA dedicates a week to focus on a particular theme around eating disorders and disordered eating to help raise awareness and reach more people who may be suffering or know someone who is. This year's theme is "Let's Get Real". The purpose of this theme is to bring awareness to personal stories of eating disorders that may not fit into the rigid box some people use to define them. The goal is to show the public that not every eating disorder/disordered eating pattern is the same.
Eating Disorders vs. Disordered Eating
You've likely heard the term eating disorder, but may be less familiar with disordered eating. An eating disorder is a diagnosis given by a clinician such as a doctor or psychologist, and it meets criteria specifically defined in the Diagnostic and Statistical Manual of Mental Disorders. Anorexia, Bulimia, Binge Eating Disorder, Avoidant Restrictive Food Intake Disorder (ARFID), Other Specified Feeding or Eating Disorder are most of the eating disorders classified in the diagnostic manual.
Disordered eating is a description of a person's eating patterns and overall relationship with food, exercise, and their body. It's not a clinical diagnosis. Disordered eating is often not recognized because it's disguised as something that seems much less dangerous. Some may even see it as simply being disciplined in eating and exercise habits. You may not recognize it in others; you may even not recognize it in yourself.
"Let's Get Real"
Yo-yo dieting, frequent weight fluctuations, feelings of guilt or shame after eating, skipping meals or compulsively exercising to "make-up" for overeating are disordered eating patterns. These are things many people have experienced, both men and women, across all age groups.
Other examples include:
Rigid and unhealthy food and exercise practices
Pre-occupation with food, body, and exercise that causes distress which negatively impacts quality of life
Compulsive or emotionally-driven eating
Disordered eating isn't discussed as often as eating disorders, even though it is more common. People may find themselves struggling with disordered eating, but, since they don't meet the criteria of any eating disorders, they think it isn't serious enough to reach out for help. Men are at risk as well, but they often fall through the cracks since eating disorders/disordered eating are a "women's struggle", which isn't true! To make matters worse, diet culture often idolizes aspects of disordered eating.
The fact is, disordered eating patterns often lead to eating disorders, which is an even more important reason to take part in NEDA's movement.
It's OK to not be OK
I've dedicated the last 7 years of my 30 year career on helping people break free of the diet mentality. I'm an advocate for intuitive eating and self-compassion. I see people struggling with disordered eating in all its disguises and my goal is to free people from the cage of dieting.
I want you to know that you don't need a diagnosis to ask for help. If you feel your exercise or eating patterns are out of your control and your self-esteem is suffering because if it, it may be time to talk to someone. Be honest with yourself; there's no shame in it. Take care of you.
Your turn to take action: You can check out the NEDA website here to learn more about resources available to you. Please email me as well (Bonnie@brghealth.com) if you feel you need help breaking free of any disordered eating habits.
Like this post? Share it!
http://brghealth.com/brg/wp-content/uploads/2018/02/Screen-Shot-2018-02-21-at-8.19.31-PM.png
642
647
Bonnie R. Giller
http://brghealth.com/brg/wp-content/uploads/2017/12/BRG_Headerwpic_2.png
Bonnie R. Giller
2018-02-26 09:00:53
2018-02-21 20:20:19
"Let's Get Real" about Eating Disorders