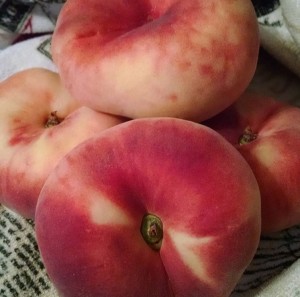 I bet you've all been wondering what the food of the month is for August. I'll give you a hint- it's round, orange-pink, and has some fuzz. If you guessed peach, then you're right!
Peachy Keen
I happen to love peaches! I would definitely place them among my top 3 favorite fruits. One of my favorite things that I have discovered over the years about peaches is that there are so many varieties! We all think of peaches with an orange interior and a peachy-colored exterior but did you know that there are other types? Two of my favorite types of peaches happen to be white peaches and Saturn peaches. Both have a pale yellow/white interior but the Saturn peach, also known as the doughnut peach, is more spherical and actually looks like a doughnut.
Why Choose Peaches?
Peaches are a rich source of fiber, potassium, vitamin C, and choline. So what does this mean for you? Well fiber is important for several different reasons. A high intake of fiber means a regular digestive system but can also mean a lower risk for certain types of cancer and heart disease. Also fiber can actually decrease blood glucose levels, which can help with diabetes.
Enough about the fiber though; let's focus on vitamin C for a minute. Vitamin C is key in the production of collagen- the basis for your skin's foundation. A high intake of vitamin C can mean less wrinkles, smoother skin, or reduce your skin's sun damage. So not only are peaches delicious but they may just be your fountain of youth! Well maybe not the fountain of youth but they definitely have some beneficial effects on your body.
Bring on the Peaches!
Not a fan of eating raw peaches? No problem. How about adding them to your next smoothie? Dice up a peach, some strawberries, and a banana, and then add some nonfat milk or almond milk and ice with the fruit in a blender. You just made yourself a delicious fruit smoothie! You can even add a chopped peach into your next salad. Just get some baby spinach, pecans, diced peaches, chopped broccoli, and grilled chicken and finish it off with a little balsamic vinegar and olive oil. This is one salad you will be craving all summer long!
Your turn to take action: Go to your supermarket, pick up some new varieties of peaches, and try to incorporate them into your meal or have as a snack! Let me know what you try and how you like it.
Like this post? Share it!
http://brghealth.com/brg/wp-content/uploads/2015/08/Peaches.jpg
739
747
Bonnie R. Giller
http://brghealth.com/brg/wp-content/uploads/2017/12/BRG_Headerwpic_2.png
Bonnie R. Giller
2015-08-17 09:00:31
2015-08-14 00:05:58
Life's A Peach